News
'Hospital Watch' programme launched in Sligo Hospital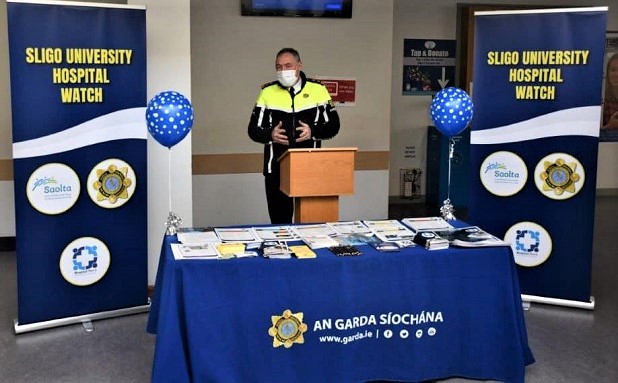 An Garda Síochána and Sligo University Hospital recently launched Hospital Watch, a proactive crime prevention programme in hospital settings.
Similar to the residential Neighbourhood Watch scheme, Hospital Watch operates as a partnership between An Garda Síochána Sligo, The Health Service Executive, Saolta University Health Care Group, Sligo University Hospital (SUH) staff, patients and visitors with the aim of preventing crime within the hospital setting. The initiative embodies the principles of partnership, problem solving, engagement and crime prevention and ensuring that Hospital Staff and patients are safe.
Georgina Kilcoyne, Deputy Hospital Manager in Sligo University Hospital commented "I am delighted to host the launch of Hospital Watch in Sligo University Hospital. This project has been in development for some time and it has been a very positive experience to work with An Garda Síochána towards a shared mission of keeping people safe. Our hospital is a community, within a community. Every year nearly 1,800 staff, 220,000 patients and many visitors come through our doors and we are absolutely committed to promoting crime prevention across the entire hospital campus. The Hospital Watch initiative will drive awareness of crime prevention among staff and patients and strengthens the links between SUH and our local Gardaí. I am very grateful to SUH Hospital Watch Committee and Inspector Pat Harney, Sergeant Angela Cummins and Sergeant Cara Kiernan for their continued engagement and support throughout this important project."
Chief Superintendent Aidan Glacken Sligo/Leitrim Division commented: "By engaging in the Hospital Watch Programme, An Garda Síochána aim to: Prevent crime, in particular the fear of crime, promote crime prevention awareness among hospital staff and service users, facilitate engagement, partnership and problem solving with hospital staff and keep Hospital Staff and Patients safe".