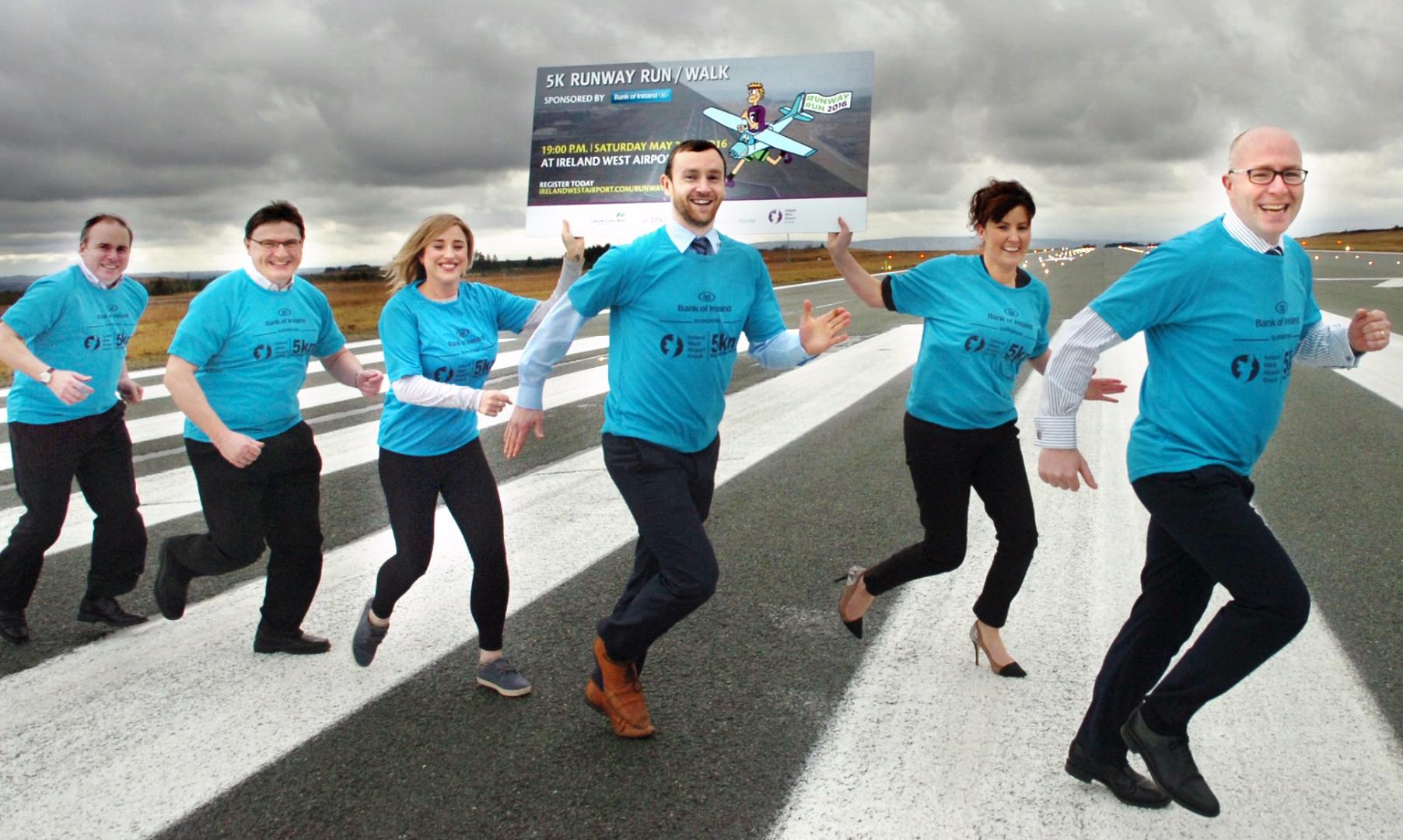 Ireland West Airport are delighted to announce, in partnership with Bank of Ireland, the 2nd annual charity 5k runway fun run will take place on the runway at Ireland West Airport on Saturday May 27th 2017.
Runners and walkers will take-off down the runway at 19:00 and complete a 5km course with a difference. All are welcome to attend what promises to be fantastic evening for all the family, raising much needed funds our three charities in 2017.
Last month the airport was delighted to announce that airport staff had selected three new charities for 2017 to benefit from the airports fundraising activities this year. The charities selected are Mayo Cancer Support, Western Alzheimers and Western Care with all proceeds from the runway run and other planned events over the course of 2017 going to the three charities.
Launching the 2017 runway fun run Joe Gilmore, Managing Director, Ireland West Airport said 'We are delighted to launch the 2ndannual charity runway fun run here at the airport. Last years event was a huge success with almost 2,000 runners and walkers, of all ages, taking to the famous runway here at the airport in glorious sunshine. Few airports around the world have such a unique history as this airport, with many learning to drive for the very first time on our 5km runway. We are delighted to be again working with Bank of Ireland and our three charities for 2017 in hosting this fantastic initiative. We look forward to making this an enjoyable and memorable experience for all involved and encourage people of all ages to come down and enjoy a walk or run on our runway on Saturday May 27th.
Eugene Loughran, Head of Business Banking in Mayo with Bank of Ireland said 'Bank of Ireland is very proud to sponsor the Ireland West Airport 5k Runway Fun Run for the second year. Last year Bank of Ireland colleagues helped raise more than €14,000 for charity and community organisations in County Mayo, and this unique event will be a key sponsorship for Bank of Ireland in 2017. We are pleased to partner with Ireland West Airport in supporting three great charities this year, Mayo Cancer Support, Western Care Association, and Western Alzheimer's'.
Entry to the event costs €20 per adult and €5 for under-16's. A special family rate of €40 will be available for families of 2 adults and 2 kids.  All participants will receive a special technical race t-shirt and complimentary car parking and refreshments at the airport will be provided on the day. Participants can sign up and find more information at www.irelandwestairport.com/runwayrun.The number of participants is restricted and those interested are advised to register early to avoid disappointment.