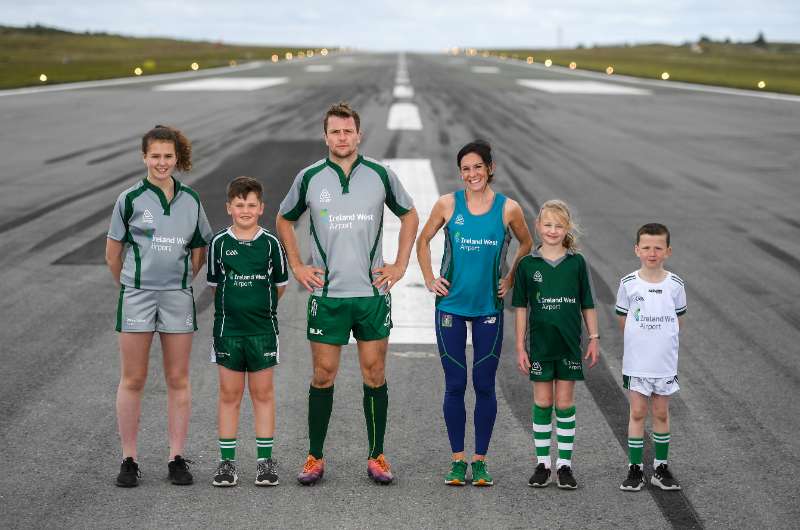 Ireland West Airport are delighted to announce the launch of a major new initiative titled 'kits4kids' which will see the airport sponsor local kids clubs teams from across our region with new sports kit and equipment.
The initiative was launched at the airport by local kids and local sports stars and campaign ambassadors, Roscommon's Jack Carty, Connacht Rugby and Ireland player and 2016 Marathon Olympian, Leitrim local, Breege Connolly. This new initiative will see the airport sponsor a full set of sports kit for underage club teams from all types of sports in counties throughout the airports catchment region.
The initiative will be run on a county by county basis with the first competition open to kids clubs in County Sligo. Clubs from the Co. Sligo region who want to get involved can upload a short video demonstrating why their kids club team deserves to win a set of new sports kit and/or training equipment. For details on how your kids club team in Co. Sligo can get involved with a chance to win visit www.irelandwestairport.com/community or check out our social media channels. Over the coming months the competition will be rolled out to clubs in individual counties across the region to take part with a chance to win some new kits and equipment.
This campaign is part of a new strategic initiative by the airport aimed at further strengthening the airport's links with the community.  As the West and North West of Irelands main international airport the support from across the region for the airport has been fantastic over the past number of years, helping it to grow to an expected record high of 800,000 passengers in 2019. This campaign is the latest community based initiative to be rolled out to thank the region for their continued support.
Commenting on the launch, Donal Healy, Head of Marketing, Ireland West Airport said 'The airport recognise the important role sport plays in the development of young kids and also the significant costs involved in providing sports kit and equipment for kids teams, particularly in rural Ireland. As an airport for the region, it's one of our core values to 'support local communities' and in the coming months we are looking forward to seeing kids from clubs across the region enjoying their sports in new sports kit sponsored by the airport. Furthermore we are really pleased to launch this initiative with two local sports stars from our own region who have demonstrated all the core values and determination you need to succeed at the highest level in their chosen sports.'
Commenting on the new initiative, campaign ambassador, Jack Carty, Connacht and Ireland Rugby star said "It's an honour for me to be involved with this campaign. It's really great to see a campaign supporting sport in clubs at youth level. All types of sports play a massive role in young kids lives, keeping them fit and healthy and creating values that will benefit them throughout their careers. I know first-hand the impact campaigns like this can have for kids playing sport and I'm delighted to be working on this campaign with the airport, rewarding local clubs and local communities across the West, North West and Midlands regions'.
Speaking at the launch of the new initiative, campaign ambassador and Irish Olympian, Breege Connolly said 'I'm proud to be an ambassador for this fantastic community based campaign with Ireland West Airport. As someone who has been so heavily supported by my own community I know how important support like this can be. Getting kids involved in sport of any kind is great for creating healthy habits and most importantly lifelong friendships and initiatives such as this are a great way to encourage kids to participate, particularly in local clubs in rural Ireland. It's a pleasure to be involved with this campaign and I encourage clubs across the region to get involved and have great fun along the way'.
Pictured from left to right on the runway at Ireland West Airport for the launch of the new 'kit4kids' campaign are Grainne Hahessy (14), Lochlann Derby (11), Jack Carty (Connacht Rugby and Ireland player), Irish Olympian, Breege Connolly, Amy Vesey (9) and Darragh Flaherty (7)