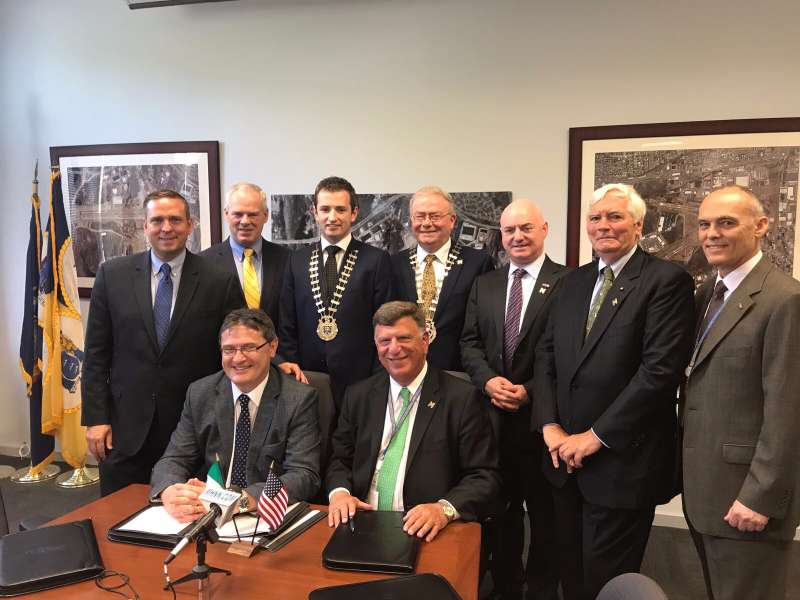 Ireland West Airport and Stewart International Airport in New York have established the first Sister Airport Relationship, forming a strategic alliance to facilitate the exchange of information and promote and develop air access between the airports.
The sister airport agreement was signed at Stewart Airport in Orange County, New York on Friday 21st July 2017 by Joe Gilmore, Managing Director, Ireland West Airport and Ed Harrison, General Manager, Stewart International Airport. In attendance to witness the historic event, as part of an official trade mission to New York, were Richard Finn, Cathaoirleach, Mayo County Council, Keith Henry, Vice Cathaoirleach, Sligo County Council Ciáran Hayes, CE, Sligo County Council, Peter Hynes, CE, Mayo County Council and Brian O Dwyer, International Chairman, Ireland West Airport Knock.
In establishing the first Sister Airport relationship the aim is to develop a cooperative partnership for the purpose of achieving the following:
Sharing of market research data relevant to developing air service between the two parties.
Collaborate to promote each other's respective regions as vibrant destinations for business and leisure travel.
Developing direct air access between our airports by working on joint marketing presentations to potential air carriers with a goal of increase tourism and economic growth in both regions.
Commenting on the historic occasion, Joe Gilmore, Managing Director, Ireland West Airport, said 'The airport are delighted to have formed a strategic partnership with Stewart International Airport. Stewart is a convenient and economical option for commercial air operations into the State of New York, the Hudson Valley and the New York City Metropolitan Region and is the newest transatlantic gateway from Ireland. The West and North West regions of Ireland have a centuries-old relationship with the people of New York, and their airports provide a modern link between the two regions that share family, business and cultural ties unmatched by other countries.  We look forward to developing this partnership with the aim of developing air access between our airports and enhancing the knowledge and expertise of both parties'.
Speaking at the signing ceremony, Ed Harrison, General Manager, Stewart Airport said 'Stewart Airport are looking forward to developing a strategic alliance between our airports and exploring options to deliver direct air access to the West of Ireland and to foster business, economic and tourism links between the West and North West regions of Ireland and Orange County'.
In 2016 it's estimated that 44% of US visitors to Ireland came to the West and North West regions, despite no direct air services to the region. Furthermore an estimated 49,000 passengers from the West and North West regions flew to New York in 2016 via other access points.
Pictured at the signing of the historic sister airport agreement at Stewart Airport in Orange County were back row, left to right, Steve Neuhaus, County Executive, Orange County, Ciáran Hayes, CE, Sligo County Council, Keith Henry, Vice Cathaoirleach, Sligo County Council, Richard Finn, Cathaoirleach, Mayo County Council, Peter Hynes, CE, Mayo County Council, Brian O Dwyer, International Chairman, Ireland West Airport Knock, Doug Sterns, Director, New York Port Authority, front row, left to right; Joe Gilmore, Managing Director, Ireland West Airport Knock, Ed Harrison, General Manager, Stewart International Airport