News
Large crowds attend Arts opening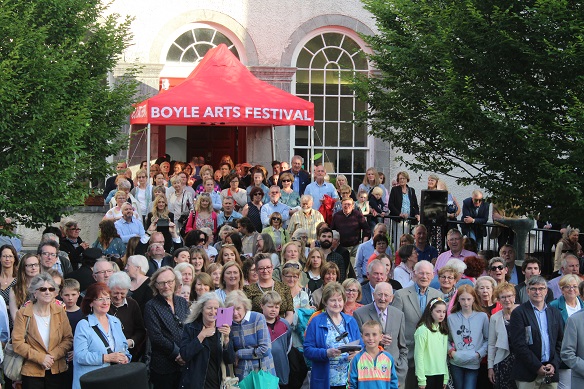 The 30th Boyle Arts Festival, the 'biggest yet' according to Chairman Gerry Kielty, opened in the grounds of King House before a large audience on Thursday evening.
Chairman Gerry Kielty, Professor John Crown (who officially opened the festival) and Marian Ahern, wife of one of the founding members of the festival, addressed the audience.
Gerry thanked a number of people including the management and staff of Roscommon Co Co and the staff of King House. He also thanked the hard working committee and businesses and members of the public who supported the festival each year.
Professor Crown said he was delighted to be in "this beautiful town of Boyle" and he regaled stories to the audience of his career to date.
Marian Ahern, wife of one of the festival founders Fergus Ahern, who she referred to "a Boyle man to the core", talked of how Fergus along with Barry Feely established the Boyle Civic Collection which now consists of almost 300 pieces of art.
Marian also said she was delighted that Colin Davidson was the recipient of the inaugural Fergus Ahern award. Colin initially exhibited in the festival in 2002.
When Fergus died, Colin wrote to Marian to sympathise and he also talked of how the festival had given him a platform at the start of his career.
In Colin's absence Marian presented the award to curator Paul McKenna.
Patricia Golden then proceeds to announce the winners of the local art competition.
Most promising Artists
Oisin Tussey, 2. Kyle Fairbanks and 3. Jack Murphy
The winners of the local art exhibition
1 Sian Costello, 2 Bruce Yeats and 3 Conor Gallagher.
Along with being the winner, Sian now can exhibit in the main exhibition next year in King House.
(More photographs on Boyletoday Facebook page)