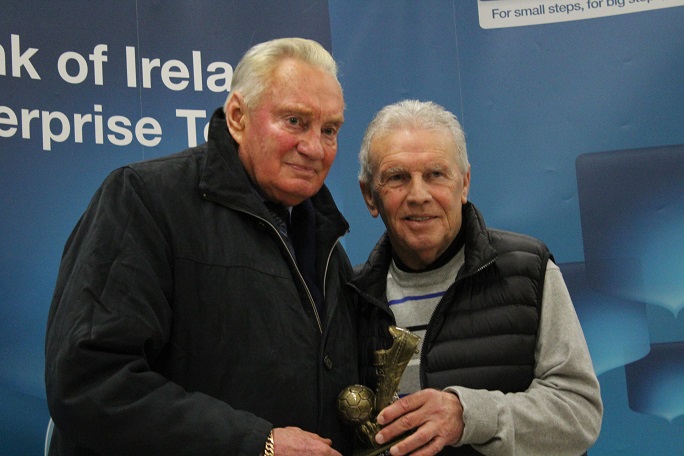 The death has occurred of Hal (Michael) Cawley, Carrickmore, Boyle, Co. Roscommon on the 9th of December 2021.
Only son of Tom and Mae Cawley, Hal is survived by his relatives and a large circle of friends.
Hal's remains will leave Abbey Haven Care Centre and Nursing Home to arrive to St. Joseph's Church, Boyle on Saturday 11th of December for funeral mass at 12 noon with burial afterwards to Assylinn cemetery, Boyle.
Please note there will be no reposing at the Nursing Home.
If you would like to send a message of condolence you may do so in the condolence section below or on RIP.ie.
The funeral mass can be viewed live via webcam on www.boyleparish.ie.
In line with COVID 19 restrictions face masks must be worn in the Church.
Please adhere to social distance measures.
Further enquiries to Higgins and Sons Funeral Directors, Boyle and Ballinameen, (086) 2328291.
Boyle Celtic Football Club published a beautiful tribute to Hal, which is reproduced below with permission:
A very, very, sad morning for Boyle Celtic people, with the news that the "father" of Boyle Celtic, Hal Cawley has passed away.
Hal was a gentleman to one and all. Quietly spoken, but when Hal spoke, it was always something worth hearing.
He and a group of local friends, brought Boyle Celtic back to life in 1966. Without him, we wouldn't exist today.
In fact, through the 70s, 80s and 90s when the club literally had nothing, great men like Hal Cawley, John Cryan, Sean Daly, Mick Gilmartin and a few others kept us open, behind the scenes and it will never be possible to thank them enough for what they did.
The success of our youth footballers was something Hal took great pride in, because it showed us that the future was bright and all would be well with his beloved Boyle Celtic. Hal's opening line was very often, "I have it on great authority" before going on to say he'd heard the team had played well, or Mick Corrigan had scored a great goal etc.
"I have it on great authority" could also be the start of a negative story he had heard, but it was delivered with such class and clarity, that it never did the "perpetrator" too much harm.
Hal Cawley always had a touch of class about him.
He had many proud moments. Although he hated fuss, he was delighted with his Roscommon Herald, Hall of fame award (pictured receiving from Ray Houghton).
When he spoke that night, many from outside the club got a flavour for his vast knowledge of the game, the incredible history of it that he had and names of local area players who had played at the highest level in England, that most had never heard of. Those of us involved in the club, have been lucky enough to hear some of the great stories he had, stockpiled in that sharp mind.
After our painful defeat in the FAI Junior Cup semi-final, played at the Showgrounds, Hal called me aside that evening and told me how he had met some "vintage" soccer men from Sligo and around Connacht at the game. People he would have known from way back and they praised him for the "superb footballing side" that his club had produced. He told me, that was a very proud moment for him. Hal would have used that word very rarely as he was very humble, so that statement will always stay with me.
Our secretary Richard Kennedy will miss him dearly, as Hal and himself were very close. Hal liked to talk football and keep up to date, with all that was going on with Boyle Celtic and there's nobody on the pulse of the club, better than Richard.
As a club we thank Carmel Keenan and family, sincerely, for their kindness to Hal throughout his life. Also to the staff in Abbey Haven for their great care in recent weeks.
Hal had many, many friends around the town, in football and outside of football. I know we will all miss him.
Rest in peace, old friend.
(Boyletoday.com photograph shows Hal receiving an award from John Giles at an event in Boyle)