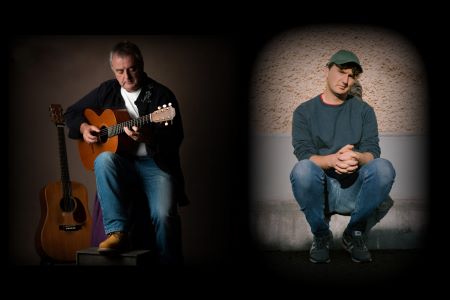 A very exciting live music programme has been assembled for Boyle Arts Festival 2023.
Tickets for all our events are now on sale through www.boylearts.com and will also be available from our Festival office at the Royal Exhibition Space on Bridge Street from July 13th.
Some of the names to watch out for in the live music genre include The Undertones, Jerry Fish, Maria Doyle Kennedy, Luka Bloom, Celine Byrne, Rattle & Hum, Iona Sound, The Men Who Knew Too Much, Ardú, Zoe Conway and John McIntyre along with live shows from local artists, Donal and Dotts O'Connor, Adam Daly and 'My Generation', a showcase of the best young local musical talent by Music Generation Roscommon.

(By Brendan McGee)
St. Joseph's Hall has been transformed into a music venue with a full bar and it will play host to five live concerts during BAF 2023. First up is legendary Derry band The Undertones, who will perform there on July 21st. This band crafted pop gems such as 'Teenage Kicks', 'Here Comes The Summer', 'Jimmy Jimmy' and 'My Perfect Cousin' along with recording four highly acclaimed LP's before vocalist Feargal Sharkey pursued a solo career. Fellow Derryman Paul McLoone replaced Sharkey and his electric onstage presence soon convinced any doubters that he was more than capable of doing the job.
Luka Bloom will make a very welcome return to Boyle on July 22nd. Having toured with his eldest brother Christy Moore in the late 1960s, Luka adopted his stage name in the 1980s. He has several self-penned albums to his name including 'Riverside', 'The Acoustic Motorbike', 'Before Sleep Comes', 'Out of the Blue' and his most recent 'Wake Up to the Shore' a 50 song 3CD set covering his career to date. Luka last performed in Boyle in 2018 as part of Boyle Arts Festival.
On July 28th, Ireland's finest U2 tribute band Rattle & Hum will take to the stage of St. Joseph's Hall. They will do justice to some of the finest rock music ever written and capture that indefinable energy that fuels U2. Coming from Dublin themselves has given them an edge over other U2 tribute bands, but it doesn't end there. They are also impeccable and experienced musicians who possess both the physical power and the psychic energy that playing the music of U2 to a live audience demands.
Jerry Fish is one of Ireland's most enigmatic and entertaining performers. An indie legend and ringmaster of exceptional renown, Jerry has evolved into a showman extraordinaire, capturing the hearts and minds of audiences all over, with his now legendary live shows. His highly anticipated performance in Boyle on July 29th will be a unique live theatrical experience that dissolves all boundaries between performer and audience.
Maria Doyle Kennedy has sustained a varied and eclectic artistic career for more than 30 years. Music is her first love and she has released 11 solo albums to date. Her most recent, 'Fire on the roof of Eden' was listed by the Irish Times in their albums of the year and Hot Press quite rightly described her as "one of Ireland's most accomplished vocalists and a national treasure". She collaborates in almost all her work with her husband Kieran Kennedy (her partner in life, music and many crimes) and you can see them during a spellbinding concert in the Church of Ireland on July 24th.
Local musician Donal O'Connor has been writing songs for over 30 years and has three entirely self-composed albums to his name. He will be joined by Dotts O'Connor – best known as the guitarist of Choice nominated bands Come On Live Long and Dirty Dreamer – for a very special concert in King House on July 25th (main picture)
Music Generation Roscommon will present their free live performance show 'My Generation' in St. Joseph's Hall on July 27th when over 30 young singers and musicians will perform an eclectic live set of classic songs from the present day right back to the swinging 60's. The songs were chosen by the young people as an expression of their musical influences.
Iona Sound interprets traditional material connecting Ireland, Scotland and Scandinavia. Max Greenwood: Piano; Bríd Cannon; Violin; Rory Pierce: Cello & Low D Whistle play traditional melodies – such as long dances, reels, waltzes and airs. They let their melodic and harmonic interpretations breathe, encouraging the listener to drift off into thoughts about what lies "North of here…" Their lunchtime performance in King House on July 29th is not to be missed.
The Men Who Knew Too Much will be back in Dodd's Crescent Bar on July 23rd to play their superb mix of jazz, country- blues, western swing and folk while local musician Adam Daly will kick off the live music programme with a free gig in The Patrick's Well, on the opening night of Boyle Arts Festival on July 20th.
The Festival office at The Royal Exhibition Space on Bridge St. will be open every day (excluding Sundays) from July 13th until July 29th. Call in for programmes and tickets. For further information, please visit www.boylearts.com Tel. 089 9722477. Email inf[email protected] or follow us on Facebook, Instagram and Twitter.
Boyle Arts Festival is supported by The Arts Council, Local Sponsors, Roscommon Co. Council and Fáilte Ireland. BAF is also supported by the Roscommon Co. Council Creative Ireland Programme 2023.