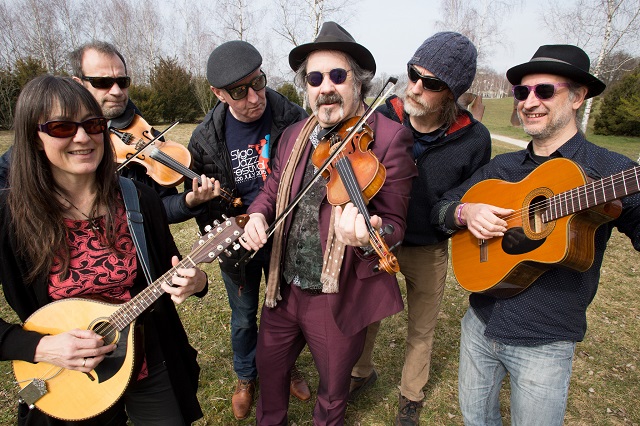 Boyle Arts Festival will be a compact but no less exciting Festival this year.
Live music has always been one of the foundations on which the Arts Festival has been built on. This year we have five headline concerts, over the first four nights of BAF 2021.
The opening concert on Thursday August 5th will see the dynamic Sligo folk orchestra 'No Crows' teaming up with special guest Martin Tourish for a magical performance in the Church of Ireland.
The line-up includes Anna Houston, (cello, mandolin) Steve Wickham, (fiddle, vocals) Eddie Lee, (double bass) Oleg Ponomarev, (fiddle) Ray Coen, (guitar, fiddle, vocals) Felip Carbonell, (guitar, vocals) and special guest Martin Tourish, (accordion).
Formed in 2005, the bands' growing output of original material reflects its diverse musical roots, from Irish traditional to Latin rumba, classical, jazz, rock and Balkan music. They have six albums of original material under their belt, with the most recent 'Escape' released in 2019.
Donegal native Martin Tourish is an accomplished accordionist, composer and producer. Now based in Dublin, he is a member of the current line-up of the Irish traditional band Altan. In 2008, Martin was named "Young Musician of the Year" by TG4. In 2014, he was awarded a PhD for his research into style in Irish traditional music and the same year also saw the release of his critically acclaimed solo album 'Under A Red Sky Night'.
On Friday, August 6th, we are delighted to welcome Paddy Casey back to Boyle. Paddy has been at the forefront of the Irish music scene for over 20 years and his career has taken him all over the globe, touring with acts like The Pretenders, R.E.M, Ian Brown, Blondie and Tracy Chapman to name a few. Closer to home, he has played all over Ireland, including Dublin Castle, the RDS and The Olympia Theatre, alongside special guest spots with U2, Pearl Jam, Bob Dylan and more.  
His recent single 'Won't Take Much' is still on the charts while 'Turn This Ship Around', a double album due to be released in August reflects both the upbeat, electric, synth and guitar driven side to Paddy's music, along with a more laid-back, acoustic vibe. Paddy will perform in the Church of Ireland.
On Saturday, August 7th 'Bird on the Wire' – The songs of Leonard Cohen will see Pauline Scanlon and The Whileaways performing many of Cohen's best-loved classics and some lesser known gems in the Church of Ireland. They lead a masterful ensemble including Will Merrigan (bass), Dave Clancy (keys) and Eamon Murray (drums) with lush string arrangements, copper fastening the elegance of the performance.
Pauline Scanlon galvanized the Irish music scene with her stunning debut album 'Red Colour Sun' in 2004. As a solo artist and as a member of vocal duo Lumiere, Pauline has entranced audiences the world over with her distinctly delicate intensity. Pauline has performed and recorded with a wide range of artists including Damien Dempsey, Sinéad O'Connor, John Spillane and is a member of several high profile groups. She released her latest album 'Gossamer' in 2016 to critical acclaim.
The Whileaways are three powerful forces in Irish roots music, Noelie McDonnell, Noriana Kennedy and Nicola Joyce combine to create a beguiling tapestry of harmonies, tradition and beautifully crafted original songs. Their sound is simply captivating, enthralling live audiences and securing their firm footing in roots music both in Ireland and internationally.
On Sunday, August 8th, we have two very special concerts in St. Joseph's Church. First at 3pm, we are delighted to welcome back Lizi, Lynda & Ceara, three local ladies who get together every few years especially for Boyle Arts Festival! Taking a break from their day jobs as secondary schools music teachers, they are delighted to be back doing what they love, singing as a trio and presenting a unique programme of some classic tunes with modern & folk influences. They will accompany themselves on piano and guitar and hope to delight their audience with a repertoire comprising of hits by Cyndi Lauper, Elvis Presley, Adele, The Cranberries, Mary Black and many more.
Later that evening at 8pm, 'John Count McCormack – A Life in Story and Song' will undoubtedly become one of the highlights of BAF 2021. Matthew Gilsenan, of the internationally renowned Celtic Tenors,  will sing the celebrated songs of the great Irish Lyric tenor, John Count McCormack, along with a narrative of his life, accompanied by pianist, Mairead Hurley.
Audiences will relive magical songs such as 'I Hear You Calling Me', 'Keep The Home Fires Burning' and 'Macushla', while hearing  the stories of John McCormack's modest beginnings in Athlone, to commanding sell out shows across the world. This captivating evening of song and story, will keep the legend that is John Count McCormack alive.
Matthew Gilsenan, himself the recipient of the Feis Ceóil award which John Count McCormack won, has travelled the world with The Celtic Tenors, keeping the Irish link to tenor and music alive on the International stage.
Because of restricted venue capacities this year, tickets for these events will be very limited. Tickets will only be available through www.boylearts.com and will go on sale from this Thursday, July 22nd at 10am.
Please note that there will be no ticket office this year and there will be no tickets available at events.
In recognition of the difficult 18 months experienced by a great number of our loyal sponsors, we will not be seeking sponsorship this year. However, we will gladly accept any donation that is offered to us, as costs will significantly outweigh income this year, due to ongoing restrictions.
For more information on Boyle Arts Festival 2021 please visit  www.boylearts.com  email [email protected]  Follow us on Facebook, Instagram and Twitter.
Boyle Arts Festival is supported by The Arts Council.
Information correct at the time of publication.