News
Marguerita is 'Woman of the Year'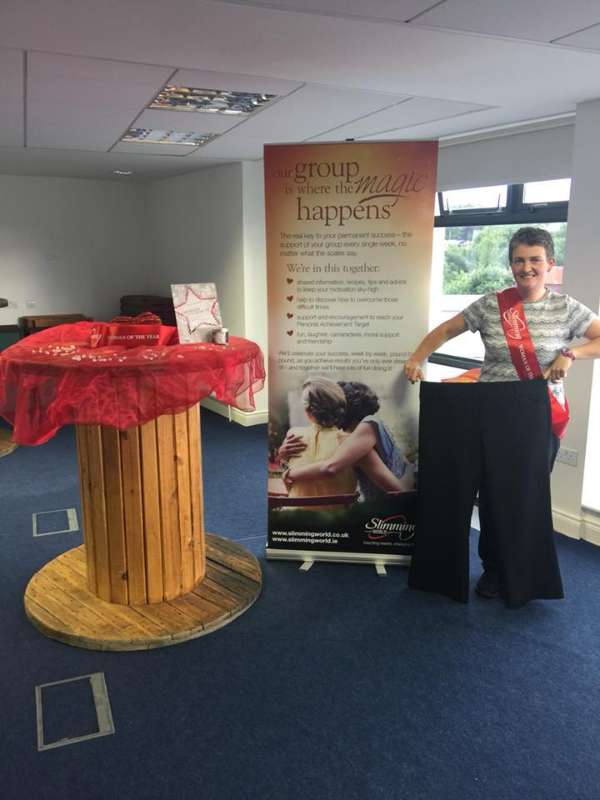 A super slimmer has been named Boyle's Slimming World 'Woman of the Year' 2018 thanks to her life-changing 4st weight loss.
Marguerita, from Boyle, has gone from 16st 6 ½ lbs to 12st 3lbs in just 16 months
More than half of all women in the UK and Ireland (58%) are overweight and a quarter of women's weight is so high it risks impacting on their health by increasing their chances of developing a range of conditions including diabetes, heart disease and cancer. Slimming World's Woman of the Year competition recognises the achievements of thousands of women up and down the country who have made long-term healthy lifestyle changes.
Marguerita, who has gone from a dress size 20 to a 12, says: "I never could have dreamt that I'd be in this position when I first began my weight loss journey. Losing weight has made such a big difference to me. My health is better, I have more energy, I'm happier and I feel more comfortable in my own skin."
"I have struggled with my weight for a long time trying every diet imaginable. I'd lose a couple of stone and then put it back on with an extra few pounds besides. As I suffered with a bad back it made exercise difficult and it was easier to sit on the couch than try to get myself moving. While I didn't think I was eating very unhealthily I was over eating. Bread, crackers and cheese were my downfall. In April 2016 I decided if I got fit the weight would drop off. I started aquafit because of my back and as I got stronger I started parkrun. Don't be fooled by the name, I walked the 5k for a good few weeks before I started to introduce a little bit of jogging. I kept at it for a full year and had lost no weight. I needed to address my relationship with food and I joined Slimming World in May 2017.
I was made to feel welcome by my initial leader Mary. She explained the plan fully and as I listened to all the helpful tips and advice from the existing members during that first meeting I knew I had made the right decision. That first week I was amazed that I lost 7 lbs. I had eaten so much and enjoyed cooking meals from scratch with a few changes that made them slimming world friendly. I realised that food optimising and body magic together were going to get me the results I wanted. I still do parkrun every Saturday morning but also go for a 5k run two or three times a week and I have recently started swimming once a week. My back pain is a thing of the past.
I've had weigh losses and gains during my journey but I have stayed to group most weeks. This to me is the key. The group chat motivates me for the coming week and nobody judges anyone else. We're all there to give and receive support. We are blessed in Boyle to have the wonderful leader Tracy. She is there to encourage us when we have a bad week and celebrate with us on the good weeks.
"I feel like a different woman to the one who walked into Slimming World 16 months ago and winning Woman of the Year is a real honour because there are so many amazing and inspirational women in our group. It took me a long time to get in the right frame of mind to lose the weight, but I've realised from attending group that when people believe in you – and you believe in yourself – you can do anything you set your mind to. I really hope my weight loss can inspire other people to get started on their own journey and know that there's a whole group of people waiting to support them every step of the way – especially at the Boyle group. I am proud of how far I have come. I am a good role model for my children. My goal now is to hit my target and stay there for life, which I know I can do."
Tracy, who runs the Boyle group, says: "I'm so proud of Marguerita. She's a fantastic ambassador for Slimming World and what she's achieved is nothing short of incredible. She's a huge inspiration to everyone in our group and I hope she inspires other women – and men – in Boyle to change their lives in the same way."
The Boyle Slimming World group is held every Thursday at 5.30 & 7.30pm at The Spool Factory and Tracy also runs the Roscommon Wednesday groups in Gleeson's at 9.30am, 5pm and 7pm. To join or find out more call Tracy on 086 3891600.