News
Steven is 'Boyle Slimming World Man of the Year'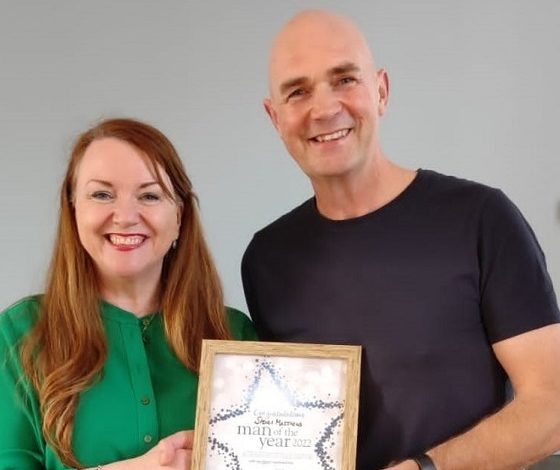 Steven Matthews has been named Boyle's Slimming World Man of the Year 2022 after losing an incredible 4.5 stone in the Slimming World Boyle group.
Steven and his wife Jane love Boyle and its surrounding areas of beauty and they planned to retire here eventually but as luck would have it, they managed to work from home and move here permanently during the recent Covid lockdown.
Steven was coming up to his 50th birthday and had a full health check-up and although he was in fairly good health, he was told his cholesterol levels were too high and he would have to take cholesterol medication.
He asked the doctor to give him six months to try and control it himself as he didn't want to be on medication for the rest of his life.
This was the push he needed to join Slimming World and also, he wanted to support his wife Jane who also was already a Slimming World member. They attended a few groups before they found the Slimming World group in Boyle. At once, they were blown away by how friendly everyone was in the Boyle group and the lovely welcome they got.
The weekly support provided by the group was both practical and encouraging.
He also found that Slimming World's Food Optimising eating plan, based on the science of satiety and energy density, meant that he never felt hungry or like he was on a diet. Steven says "One thing I've always loved about the Food Optimising plan is just how flexible and generous it is. The freedom of the plan means I never have to miss out and nothing is off limits. I love that I don't have to worry about weighing and measuring everything I eat or counting calories either. Before I started, I worried eating healthily might limit me but I try more new recipes now than I ever did before and have found Food Optimising fits around my life, rather than the other way around". Steven loved to cook anyway and soon got stuck into his favourite meals. He loves making curries and he couldn't believe how they were just as delicious in Slimming World; all he did was make some simple swaps.
Steven went on to lose four and a half stone and achieve his target weight in June of this year. Steven says "Of course, I was delighted to achieve my target weight, but I was especially pleased when I went back to my doctor, he told me my cholesterol level was now perfect and I no longer needed to be on any medication". Following his fantastic weight loss, he feels great and runs the local Lough Key Park Run 5k in around 32 minutes. Steven says "Prior to my weight loss, I would have been worried about the the impact on my knees if I ran, but now I really enjoy running. It's great for my physical and mental well-being. As well as running in the Lough Key Park Run on Saturdays, I get out there and enjoy running 5K twice a week".
Pauline Bliss who runs the Slimming World Boyle group in St. Joseph's Resource Centre says she's incredibly proud of Steven: "He has done brilliantly and we're all in awe of his transformation. He's achieved what he set out to do – to become healthier and happier. He's a real inspiration to the whole group, I couldn't be prouder of everything he's achieved. It was my pleasure to recognise his fantastic achievements and award him with Slimming World's Man of the Year award recently. Steven has proved that Slimming World is for everyone, young and old, for women AND for men"
For anyone wishing to join the Boyle Slimming World group, just pop along to St. Joseph's Resource Centre every Tuesday at 6pm or call Pauline on 087 1878701 for more information.