Boyle Sport
Martin Daly wins Lorcan Egan's Captain's Prize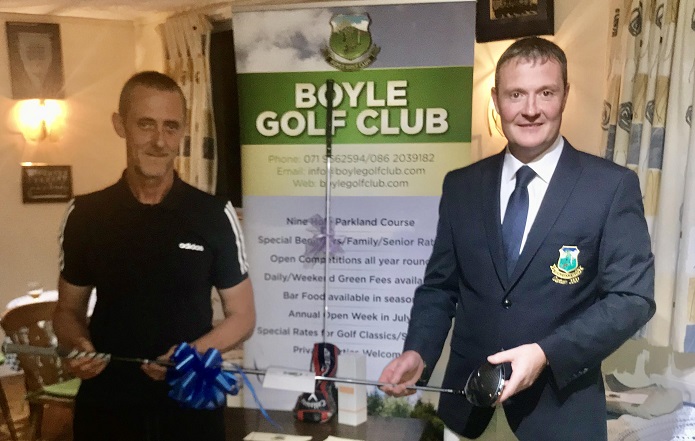 CAPTAINS DAY 2020 – Lorcan Egan's  Captains Day was a major success in every respect, from the weather holding out for the day, the biggest field participating in recent memory, and capped by a new name winning his first major, Martin Daly. Martin did extremely well to have the lead after the first 18 and maintain it throughout the 9 hole playoff later in the evening, especially as he had never been in a playoff previously.
The presentation took place the same evening in the clubhouse. The captain congratulated all the winners and paid  tribute to the assistance he had received throughout the year and especially in the week leading up to the Captains Prize. He also thanked our generous local sponsors and noted the huge increase in the numbers playing golf during the year.
CAPTAINS PRIZE RESULTS – 1st Martin Daly, 2nd Mark O'Donohoe, Gross – Sean Heslin, 3rd- Lochlainn Conboy, 18 nett Michael Simon, Past Captains – Gerry O'Hara, Senior – Pat Conroy, Categories 0-13 Ciarán Beirne, 14-20 Liam Whyte, 21+ Enda Smith, 1st Nine Pat Brogan, 2nd Nine Tadhg Lowe, 3rd Nine Cillian Conboy. Visitors Prize – Donie Smith.
Captains Scramble winning team were Fiona Keenan, Niall Kearney and Michael McHale.
CAPTAINS PRIZE TO THE LADIES – Results of today's competition
1st. Marie Hanmore Cawley (72)
2nd. Susan O'Mahoney  (74)
3rd.  Carmel McGarry (76)
Gross – Liz Dwyer
Front Nine – Ruth Hogg
Back Nine – Mary O'Hara
THANKS – Sincere thanks to Tom Kearney who generously sponsored the meat for the Captains Day barbecue.
FIXTURES – Next weekend is the annual fundraiser for Our Lady's Hospital for Sick Children, the "Crumlin Classic'", played as a threeball rumble.
CONGRATULATIONS – to Lewis Shaw on his recent engagement. We hear Ted is looking forward to the stag do already!
MEMBERSHIP STICKERS – Membership stickers for those who have paid up for 2020, or are paying by monthly debit, are available for collection in the office of Vincent and Lorcan Egan, Elphin Street.
BOOKING APP – Members are encouraged to download and use the new BRS booking app which should eliminate some of the glitches that occur with the version currently is use. Look in your App Store or on Google Play for "BRS Golf".
Pictured is Martin Daly receiving the Captains Prize for 2020 from Captain Lorcan Egan.