News
Minister Humphreys opens 'An Rioga' during Boyle visit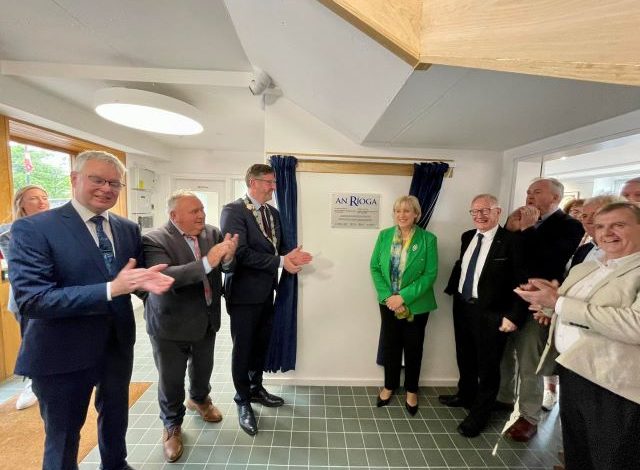 Minister for Rural and Community Development Heather Humphreys visited Boyle on Wednesday afternoon.
During her visit, she performed the official opening of 'An Rioga' – the former Royal Hotel Building, before visiting King House, Boyle Family Resource Centre and the Spool Factory.
The project will provided a community, cultural and business hub in the town's previously vacant Royal Hotel along with the development of a new River Promenade which includes outdoor space for events and performances.
The project, funded under the Rural Regeneration and Development Fund, with match funding provided by Roscommon County Council has been delivered at an overall cost of €3.4 million.
The investment comes as part of the Government's commitment to the revitalisation of rural towns under its Rural Development Policy, Our Rural Future and the Town Centre First policy which aim to bring more people, business and investment opportunities to Irish towns.
Roscommon County Council were awarded funding of over €2.5 million under the Rural Regeneration and Development Fund to deliver the project.
Those in attendance at the An Rioga opening heard various speakers praise the regeneration of the former hotel into a 'multi purpose creative centre that will host exhibitions and become a civic space for the town".
With over €15m in state funding committed to projects in Boyle to date, the audience were told that figure will increase by a further €4.5m when the new Boyle Library is constructed at the rear of An Rioga.
Speaking at the opening, Minister Humphreys said:
"I am delighted to be here today to officially open the Boyle Regeneration project. This fantastic facility will serve the town with community and cultural facilities as well as providing business opportunities to the local community".
"Boyle Regeneration, which is part of the larger Boyle 2040 masterplan, will be transformative for the town of Boyle and its surrounding communities. By repurposing a previously vacant building, this project has breathed new life into the town and will help attract further investment in the area."
Along with Minister Humphreys, other speakers included Shane Tiernan (Acting CEO Roscommon Co Co), John Keogh (Cathaoirleach RCC) and Ciaran Sheerin (Chairman Boyle Town Team). MC was Nollaig Whyte Roscommon Co Co.
Ciaran Sheerin from Boyle Town Team detailed all the work the Team has been, and is, involved with around the town including a major landscaping project at the second gate lodge in Rockingham along with kerbing of the cycleway which is due to commence shortly.
Minister Humphreys then visited King House for refreshments before moving onto Boyle Family Resource Centre.
She then toured the Spool Factory Co Working Hub and Office Suites and visited the Fitt Factory and award winning animation company Studio Meala both located in the Spool Factory.
While there she spoke of the great asset hubs like the Spool Factory are for towns like Boyle and how they can play an important role in the regeneration of an area.
(Full photographic coverage of the visit is now available on our social media channels)