News
Minister praises exciting plans for Boyle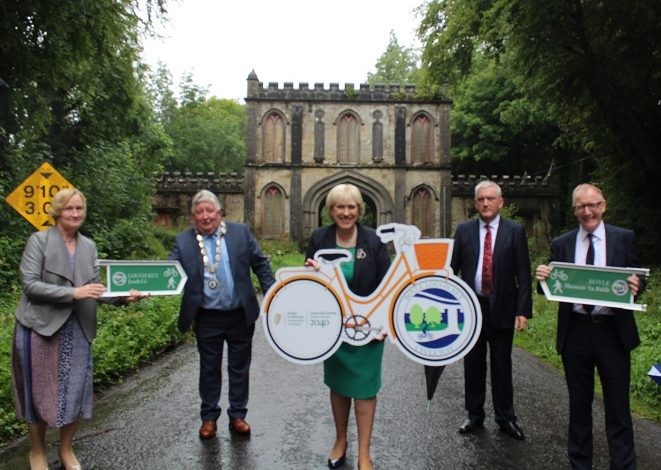 Minister Heather Humphreys paid an official visit to Boyle on Wednesday – her first official trip outside Dublin since her election as Minister in the Department of Community and Rural Development.
On a wet but warm morning, Minister Humphreys stopped off firstly at the Royal Building in Boyle where she was briefed on the plans for it's transformation into an Enterprise Centre and Exhibition Space along with a riverside promenade with lighting, seating, and landscaping along with a new civic space to the rear of the original main structure. Work on the project is due to commence in the next few weeks.
Then it was on to Lough Key Forest Park where the Minister viewed the Lough Key to Boyle cyclepath which her Department has funded.
Later in King House Cathaoirleach of Roscommon County Council Laurence Fallon officially welcomed the Minister to Boyle. He also said it must be an exciting time for Minister of State Frank Feighan to have today's delegation in his home town.
Cathaoirleach Fallon said "Boyle is an important part of the future of County Roscommon" and complimented King House and Lough Key Forest Park stressing their importance to the county.
County Manager Eugene Cummins  said three things were necessary for a town to develop – the input of the community, the input of the local authority and having a plan in place, and in Boyle all three were present. He thanked Boyle Town Team for the support of the Council and said "we have great plans for Boyle, Lough Key Forest Park and the Royal".
He went on to say the Council are "putting their hearts and souls into the plans for Boyle" and he looked forward to welcoming Minister Humphreys back to "cut the ribbon" on some of the projects.
Responding Minister Humphreys recalled her last time in Boyle when she visited the Arts Festival, remarking how well it had been organised.
She said her department want to see "your ideas, your hard work and then we will then help you."
She said she was impressed with all the exciting plans for the town and how Boyle is "doing it by yourselves with joined up thinking".
In conclusion, Minister Humphreys said she had an a connection to the town as her late aunt came to work in Boles of Boyle many years ago, staying with the late Ms. Johnston – "the same lady that minded your new Minister Frankie Feighan when he was a young lad".