Events
Musical events continue in King House this weekend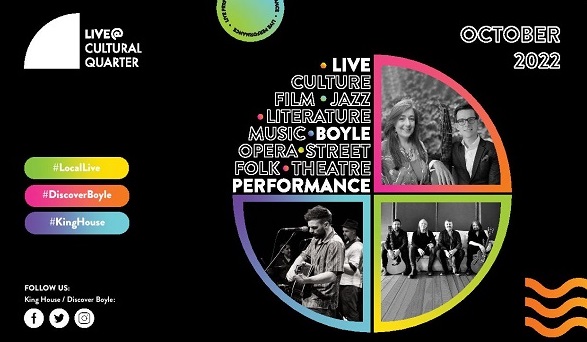 Following a highly enjoyable weekend of music at 'Live at the Cultural Quarter' in King House last weekend, this Friday and Sunday sees two more musical acts take to the stage.
'Live at the Cultural Quarter' is an ongoing programme of events at King House, showcasing and supporting professional artists based in County Roscommon and working across a range of mediums.
The King House Cultural Quarter includes King House, Discover Boyle Visitor Centre and Craft Shop, Courtyard Market, King House Tea Rooms and the area stretching down to and including the Pleasure Grounds
Upcoming Events
Friday October 14th (8pm) – RU Mew and Guests folk, pop, soul mix – King House
Sunday October 16th (7pm) – Chloe Ewings and Nils Klofver guitar and singer serenade – King House
Wednesday October 26th (10am and 12 noon) – An Ant Called Amy – King House
October 29th-31st (5-8pm slots) – The Green Lady's Ghostly Trail – King House.
Live at the Cultural Quarter is funded by Roscommon Co Co and the Department of Tourism, Culture, Arts, Gaeltacht, Sports and Media under the Local Live Performance Programming Scheme.