News
New album released by Boyle singer/songwriter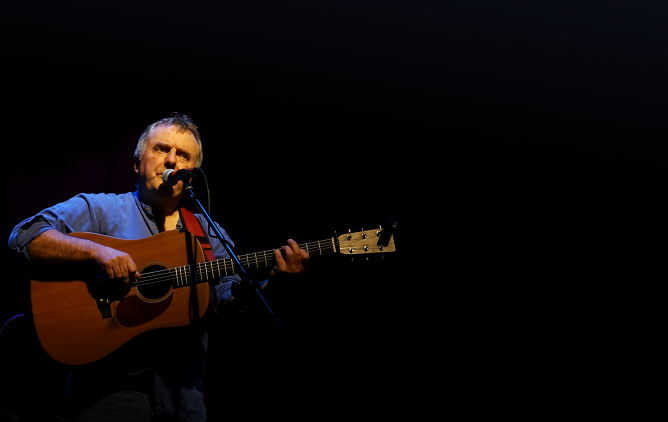 Boyle singer/songwriter Donal O Connor has just released an album called "black n blue".
This is his third album of self-penned songs. His previous albums "It's About Time" and "Live at the Moving Stairs" were lauded by artists of the standing of Christy Moore, Tommy Sands and Charlie McGettigan to name but a few.
Despite holding down a full time job as an Environmental Health Officer, Donal managed over the years to fit in numerous tours of British and German folk clubs. On a less regular basis he has gigged in the USA, Spain and New Zealand. He has been and continues to be involved in various musical collaborations. One which stands out was his writing of a song in support of his local soccer team Boyle Celtic on the occasion of their reaching the FAI Junior Cup semi final in 2017. It was written, arranged, rehearsed, recorded, released and reached No 1 in the iTune Charts all in a period of 10 days, knocking Ed Sheerin from the number one slot. Lead vocalist was the charismatic Kevin Hickey. Donal remembers those 10 days as a whirlwind of pure crack.   
 "black n blue" was produced by Paul Gurney. It was recorded at Real World Studios, Longford and at Sheegora Sound, Boyle, which is a studio run by Donal's lifelong friend Bernard Flaherty. On "black n blue" Donal is joined by Paul Gurney (piano, guitars, bass), Matteo Cullen (piano), Tony Fitzgibbon (fiddle, mandolin), Padraig McCaul (saxophone). Backing vocals were provided by Danny Sheerin. On one particular song "Love is Stronger than Stone" Donal was delighted to be joined by a large group of backing singers most of whom are his colleagues from Boyle's St. Joseph's Church Choir. They are Rhona McGrath, Valerie Casey, Mandy Toolan, Catherine Bolger, Lizi Hannon, Roisin Mullen, Kit O Connor, Daithi O Connor, Rory McDonnell, Frankie Simon and Bernard Flaherty.
While Donal would consider himself very much a "folkie" he admits that there are a few tracks on "black n blue" which would sit very comfortably in the country/bluegrass genre.  
This is a most difficult time for musicians and artists and it has proved almost impossible to arrange a launch night for the album. Covid restrictions allowing, it is likely that a filmed launch gig, without an audience, will be presented on social media once the Level 5 restrictions lift. However the album IS released and IS for sale. It can be purchased online at http://donaloconnor.ie http://donaloconnor.bandcamp.com/releases and by click and collect at http://surprisesgiftware.com/shop/page/2/ 
It would be a great stocking filler!.