News
New N4 dual carriageway to open before end August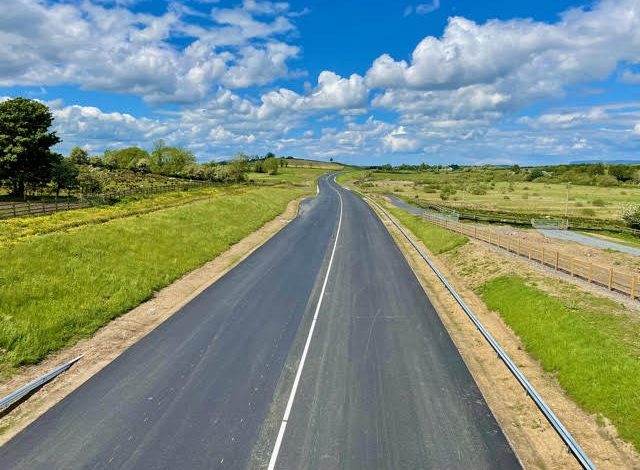 The highly anticipated opening of the new N4 dual carriageway from Castlebaldwin to Collooney is scheduled to take place before the end of August.
It had been suggested earlier this week on local radio that the new road would open on Monday 16th but this may not now happen.
The project is one of the largest road infrastructure projects in the country and will reduce travel time to and from Sligo, especially for those living and working in Boyle or vice versa.
When operational, motorist travelling from the east of the country to the north west will have dual carriageway from Castlebaldwin straight through to the northern side of Sligo town.
Scheme Fact File
2.58km of widening and improvement of the existing N4 single carriageway to a Type 2 Dual Carriageway from the existing N4/N17 Toberbride roundabout in Collooney to Doorly Td.
12.12km of offline realignment from Doorly Td. to Cloghoge Lower Td.
(11.23km between Doorly Td. and Castlebaldwin Junction is proposed to be Type 2 Dual Carriageway and the remaining tie-in section is proposed to be Type 1 Single Carriageway)
New side roads and upgrading of existing local roads;
One Compact Grade Separated Junctionon the mainline, (Drumfin/Cloonlurg Junction);
One at-grade roundabout Junction on the mainline, (Castlebaldwin Junction);
Three at-grade roundabout Junction on sideroads; (Toberbride East Junction, Doorly Junction, Cloonamahon Junction);
Four road overbridges (Toberbride, Knocknagroagh, Drumfin North, Drumfin South);
Six road underbridges (Doorly North, Doorly South, Carrownagark, Kingsbrook, Ardloy and Tawnagh);
Two river bridges (Lough Corran Outflow/Turnalaydan River Bridge and Drumfin River Bridge);
Culverts and associated diversions of existing minor watercourses and drainage ditches;
All necessary drainage works, diversion of services and utilities, environmental mitigation works and accommodation tracks.
(Boyletoday.com photograph taken at Lackagh, shows the project under construction)