News
New Spanish aparthotel has a Boyle connection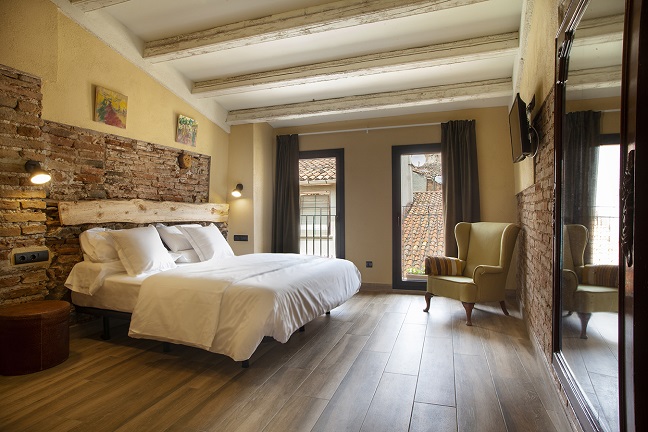 A new boutique aparthotel, run by a couple from Boyle, has opened in Spain.
'Priorat Aparthotel' is located in Falset, forty minutes inland from Tarragona in northeastern Spain's Catalonia region.
It is run by John and Joan Gallagher who moved to the area from Boyle a number of years ago.
The building in which the aparthotel is located was in former days the creamery and butchers of the town.
John and Joan started the demolition and reconstruction of the building over three years ago. Originally they thought it would take two years but "did not factor in a Pandemic into the equation. But after falling down and getting up again several times, we are finally open for business", according to Joan.
The building has five studios and one penthouse. Each one has an artist's name. The hotel houses the couples complete art collection which includes several Irish and Spanish Contemporary artists. Books are another art form and they have placed a number of their eclectic collection at your disposal.
The Cal Maleno Basement, is 40 m2 and has been converted, retaining two of its original arches supporting a vaulted ceiling. This room can be used for wine tasting events or private parties by the guests subject to availability and suitability.
Each Studio and the Penthouse have a flat screen Smart TV and WIFI.  There is an elevator which services the entire building and a wheelchair accessible ground floor studio. Each unit is cleaned daily and are climatically controlled.
According to Joan, " Falset has a similar population to Boyle. It is the capital of the Priorat wine region which is a very prestigious wine worldwide". "This area is also brilliant for walking and hiking and we have walked many of the routes in the area and will happily suggest walks for all levels. We cater for walking groups, including transport, maps, packed lunches, etc".
"We would be delighted to welcome guests from Boyle and we will give a good rate to people from Boyle if they book directly with us", said Joan.
You can view the aparthotel here or follow it on Facebook, Instagram and Twitter.<
Contact: 0034600054170 or email [email protected]