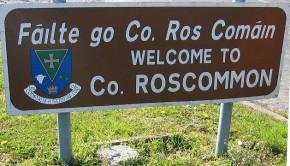 Roscommon is to remain intact following a controversial boundary review whose findings are to be published this afternoon.
It had been proposed that over 30 sq km of the south county subsumed into Westmeath to accommodate a growing Athlone.
Irishtimes.com report that it is understood the Athlone Boundary Review, set up to investigate the matter, has recommended there be no change to the Roscommon/Westmeath border but that local authorities in both counties co-operate more where an expanding Athlone is concerned.
You can view the story here
Senator Frank Feighan has welcomed the announcement that the Athlone Boundary Review committee has not recommended any change to the Roscommon-Westmeath boundary.
"This is very welcome news for the people of the county especially those living in South Roscommon who feared the detrimental effects of any proposed boundary changes.
"It's clear that the concerted campaign of pressure has paid off and I want to pay tribute to the Save Roscommon group and everybody who worked so hard to ensure that no area in the county would be moved into Westmeath.
"The fierce resistance which opposed any such move every step of the way was acknowledged by the Boundary Review committee.
"In its report, it notes 'the strength of opposition from citizens of Roscommon to any such boundary change.
"This is certainly a great day for Roscommon."
Meanwhile, Fianna Fail TD Eugene Murphy has warned that the proposed Athlone boundary change has not been written off completely and unless a number of stipulations from the boundary report are adhered to then the controversial boundary changes could still go ahead in four years time.
Deputy Murphy was speaking this afternoon following a briefing session for Oireachtas members in Leinster House in relation to the Athlone Boundary Committee and he outlined details of the boundary report.
"I am not happy that the proposed boundary changes which seeks to co-opt parts of County Roscommon into Westmeath have been completely written off – the boundary report states that there must be a joint local area plan within 24 months, a joint retail strategy within 18 months and a service delivery analysis and plan within 9 months while the implementation of these service delivery changes must take place within three years," said Deputy Murphy
The Fianna Fail TD also pointed out that the boundary report indicated that Local Authority services between Roscommon and Westmeath should be shared and this could be extended to other organisations such as the HSE, the IDA and other bodies.
"When I pressed this issue at the Oireachtas briefing this afternoon it was indicated that if all of these conditions are not implemented within four years then the proposed boundary change could still go ahead. I am not satisfied that boundary change has been completely written off and I think this is a sophisticated way of getting around it- The boundary report is a plan of action with a number of issues to be addressed within specific deadlines and in my view the Minister needs to scrap this plan of action in the boundary report and simply take the issue off the table completely as this still leaves a veil of uncertainty over the issue," concluded Deputy Murphy