News
'Oh, No! Somalia' – 30 years later as if time stood still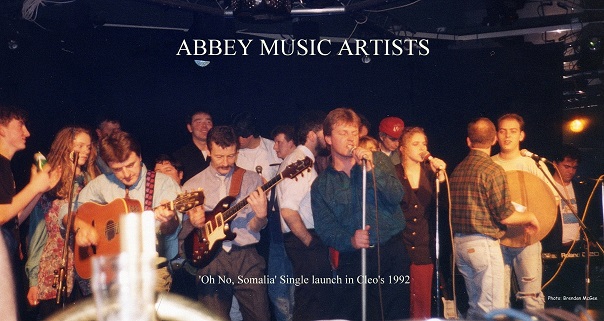 The origin of the song 'Oh No Somalia' dates back to October 1992, when the southern part of the African country Somalia was plagued by a civil war and famine. It was reported that approximately 30,000 people were dying every month from starvation alone. Here in Boyle, Co. Roscommon, a group of over 25 local musicians and singers got together to help raise some funds for this war stricken country.
(By Brendan McGee)
Local musician Sean Nicholson had invited everyone to a makeshift studio that he had installed in his house, to record a benefit single under the name of Abbey Music Artists, with all proceeds going to the charity Trócaire. The song, entitled 'Oh, No! Somalia' was written by Donal O'Connor and the recording of it was engineered & produced over two days, by Brendan O'Dowd.
24 hours later the song was mixed and sent off for duplication on to the then popular cassette tape medium. Cover artwork was designed by Seán O'Dowd.
The single was launched on Nov. 6th 1992 in Cleo's Night Club, Boyle and the tapes were sold over the following months. It was a fantastic local effort that raised a considerable amount of money at the time. The single was followed up a few weeks later, by a twelve track album of original songs and covers, entitled 'For Africa'.
By March 1993, the famine and war in Somalia had largely been dealt with by humanitarian aid and the arrival of US troops, helping to distribute food and supplies.
However, fast forward exactly 30 years and it is as if time has stood still….
Somalia is now in the grip of a severe drought, brought on by successive failures of the rainy seasons since 2020. An estimated 7.8 million are now impacted by this drought, with approximately 250,000 people on the brink of famine.
'Oh, No! Somalia' was probably destined to remain very much of its time – and possibly never be heard again. Unfortunately, it is once again as relevant as it was in 1992 and whatever good it did then, must be harnessed again now.
For that reason, the original master tape was located and remastered for digital download.
'Oh, No! Somalia' by Abbey Music Artists has been re-released, with all proceeds going once again to the Trócaire Somalia Fund. The song is now available on the Bandcamp audio distribution service.
Here is the link to download it https://donaloconnor.bandcamp.com/track/oh-no-somalia
Donal O Connor who wrote the song says: "Can you spare €2 to download this wonderful song, which was sung by Gerry Casey, with backing from 25 musicians and singers from Boyle, Co. Roscommon." "It is with great sadness and deep frustration that this song is considered as relevant as it was 30 years ago. The famine is reported to be even worse than in 1992. "Please download the song and share and share and share."
All who took part in the 1992 recording…. Frankie Simon, Seán Nicholson, Brendan McGee, Gerald Casey, Matt Burke, Jonathan McGlynn, Seamus Simon, Derek Caldbeck, Berna Garvey, John Costello, Bernard Flaherty, Mary T. Connolly, Colette Connolly, Brendan O'Dowd, Jackie Harvey, Donal O'Connor, Joe Kennedy, Frank (Monty) Montgomery, Helen Grehan, Seán Simon, Kieran Emmett, Brendan Emmett, Dave Moriarty, Sean O'Dowd, Richard Connolly and Paul Emmett.