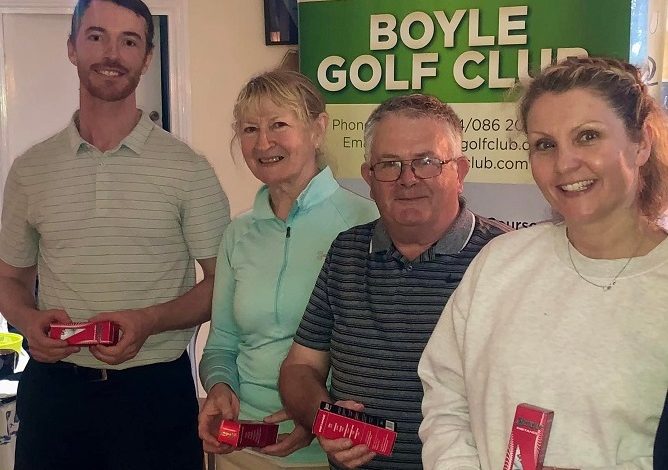 OPEN WEEK – Our first Open Week since 2019 concluded on Friday the 8th with a hugely successful Scramble, Barbeque, Presentation of Prizes and social evening with music by Adam Daly. Mens Captain Gabriel Lavin commented in his speech during the presentation of prizes about the great feeling of community around the club and how delighted he was in particular to see great support from the Ladies section for several of the competitions. Our Monday evening Ladies and Gents 9 hole competitions actually had more participants in the Ladies competition than in the Mens'.
A particular debt of gratitude is owed by the club to our very generous local sponsors without whose support Open Week would not be possible. A list of these is on display in the clubhouse and sponsors signs are also in prominent places around the course. Members are asked to return the favour of supporting any of those businesses who were kind enough to lend us their support.
The club is also grateful to our Open Week committee of Brendan Gaffney, Gabriel Lavin and our two Competition Secretaries, Mary O'Hara and Lorcan Egan who collectively put in a lot of time and work in recent weeks.
The list of winners was as follows –
MONDAY 4th JULY – Mens 9 hole Stroke – 1st Jonathan Egan 31, 2nd Shane O'Dowd 32, Gross Lorcan Egan, 3rd Owen Garvin.
Ladies 9 hole Stroke 1st Liz Dwyer 2nd Kathleen Mahon 3rd Moira Egan.
TUESDAY 5th JULY – LADIES DAY – 18 hole Stroke results -1st Kathleen Mahon, 2nd Mary O'Hara, 3rd Liz Dwyer, 4th Regina Mc Loughlin, 5th Moira Egan
Visitors – 1st Ogie Moran, (Ballaghaderreen), 2nd Nora Beirne (Strokestown), 3rd Maureen Hanley (Strokestown).
Categories- A Patricia Perry, B Joey Mullaney, C Carmel McGarry
Front- Eileen Lyons (Strokestown)
Back. 9 – Maura O'Farrell
Ladies Day 9 hole competition – 1st @Therese O'Daly, 2nd Geraldine McDermottroe, 3rd Mary Queenan.
TUESDAY 5th JULY – Mens 9 Hole Stableford – 1st Charlie O'Donnell 22 points, 2nd @Mark O'Donohoe 22, Gross Lorcan Egan 39 nett, 3rd Jonathan Egan 21 points
WEDNESDAY 6th JULY – Mens 9 Hole Stableford
– 1st Jonathan Egan 20 points, 2nd Cillian Doyle 20
Mixed Foursomes 1st Lochlainn Conboy and Kathleen Mahon 60 nett, 2nd Brendan Gaffney and Susan O'Mahony 63 , 3rd Vincent Egan and Moira Egan 66
THURSDAY 7th JULY- Ladies 9 hole Stableford – 1st Phil McWeeney (Carrick On Shannon), 2nd Moira Egan, 3rd Aisling Gaughran
Mens 18 hole Stableford – 1st Gary Carty 40 points, 2nd Michael Simon 38, Gross Martin Wynne , 3rd Vincent Egan 38, Visitors Prize Tadhg Egan.
FRIDAY 8th JULY – Scramble – 1st Tadhg Egan, Pat Conroy, Maria Hamill , Mary Queenan
2nd – Gary Carty, Vincent Egan, Joyce Boles, Ann Gallagher
3rd – Michael McHale, Joey Mullaney, Aisling Ennis, Liam Mullaney.
(Main photograph shows Tadhg Egan, Mary Queenan, Pat Conroy, Maria Hamill)