News
Passenger numbers increase at Ireland West Airport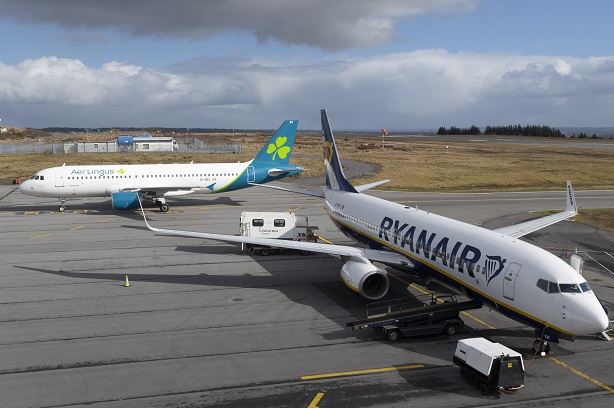 2022 has proven to be a strong year of recovery at Ireland West Airport, with passenger numbers increasing by 314% to 722,000 compared to 174,000 passengers in 2021. Compared to pre-covid levels, passenger numbers recovered to 89% of the record 2019 level of 807,000 passengers.
The number of passengers traveling on services to and from Mainland and Continental Europe hit a new high for the airport, surpassing 2019 levels, increasing by 9% to 138,621, with a particularly strong performance recorded on services to and from Cologne, Barcelona and Milan which in turn generated significant economic benefits for the West, North West and Midlands regions through increased overseas visitors from these regions.
Passenger numbers travelling on services to and from the UK reached 578,000, boosted by the commencement of 3 new services to Birmingham, Edinburgh and Manchester with Ryanair and the return of the popular Aer Lingus service to London Gatwick. In addition, Ryanair recorded its busiest ever year for passenger numbers at Ireland West Airport, carrying a total of 654k passengers in 2022.
2022 was a milestone year for the airport, as along with Shannon Airport, both airports became the first airports in the world to be recognised as Age Friendly, as endorsed by the World Health Organisation (WHO), in June and in October were crowned joint winners of the Age Friendly Transport Award at the prestigious National Age Friendly Transport Awards. The Age Friendly Transport Award recognises the vital difference that availability to good quality, easily accessible, user friendly and reliable transport options can make to an older person.
Furthermore 2022 saw continued investment in the Airport Transformation Program with several infrastructural projects commencing during the course of 2022, aimed at continuing to enhance the airports facility to meet the future needs of both our airline customers and passengers.
Projects which commenced in 2022 include:
Sustainability Master Plan to support the airports sustainability and environmental strategy
Major upgrade of the airport's electrical infrastructure across the entire airport campus
Upgrade of the airport ground services fleet of vehicles to electric vehicles
Purchase of new Fire Tender Vehicle
Resurfacing and upgrading of the airport car parking facilities at Ireland West Airport.
Essential maintenance works in the upstairs Sláinte Restaurant area of the airport.
Commenting on the 2022 performance, Arthur French, Chairman, Ireland West Airport said: "The airport are delighted to report a much improved performance in 2022 following two extremely challenging years, recording a strong recovery, reaching passenger numbers of 722,000 in 2022. Last year's passenger throughput reached 89% of pre-covid levels which is very encouraging given most industry experts forecasted it would be 2024-2025 at the earliest before airports recovered to these kind of passenger numbers. In addition, I wish to recognise some notable achievements in 2022 by our staff, which include International recognition by the World Health Organisation for our staffs efforts in creating a more age friendly environment at our airport. Furthermore, it was particularly pleasing for the airport to present a cheque for a record amount of €42,500, to the airports three staff nominated charities for 2022 – Childhood Cancer Ireland, Kevin Bell Repatriation Trust and The Sensational Kids Charity, to support the fantastic work that these charities all undertake, which really does make such a difference to the people that they support in our community. Finally, I would like to thank our customers, airline partners, stakeholders, tourism groups, local authorities, Chambers and Government representatives for their ongoing support through what's been a very challenging two years and I would also like to say a special word of thanks to the staff at the airport for their hard work and continued focus on ensuring the customer and passenger experience through the airport continues to be both a safe and welcoming one. As we look ahead to 2023, I am encouraged by the outlook for the year ahead which will see the airport return to pre pandemic passenger levels and despite the many challenges that currently exist in the aviation industry, we are confident of further growth over the next 12 months'.
2023 has already got off to a good start with the announcement by Ryanair of their biggest ever Ireland West Airport schedule in 2023 with 16 routes, operating 120 weekly flights, a 15% increase on 2022, including an exciting new route to Lanzarote for Summer 2023. In addition Ryanair have increased frequencies on 5 UK routes, adding an extra 40,000+ seats on services to Birmingham, Bristol, East Midlands, Liverpool and Manchester.