Events
"Pleasure Ground" returns Saturday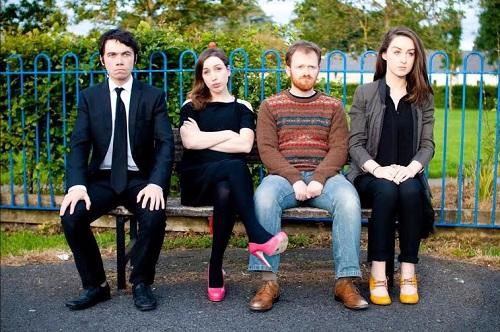 Following a memorable and outstanding performance in Boyle last December, Fregoli in association with Boyle Arts Festival are delighted to bring the play Pleasure Ground back home again to Boyle on Saturday May 14th. Boyle is of course also home town to the writer, Jarlath Tivnan and the director Maria Tivnan.
Pleasure Ground is Jarlath's first venture into playwriting and it is based on ideas inspired by the decline of a typical rural Irish town. Becoming a prizewinner of the inaugural Michael Diskin Bursary ensured that these ideas became an actuality.
A group of friends, who have gone their separate ways, meet back at their teenage haunt, the Town Park and playground – known as the Pleasure Ground. The town is dying, the Pleasure Ground's glory has faded, and life hasn't quite matched up to youthful expectations. Over their night together, buried secrets become unearthed, past grievances boil over, and scores are settled.
The notions of home, belonging, community and change are themes Fregoli are always keen to explore and the play began to take shape around the town of Boyle, inspired by its playground and recreational area which is actually called the Pleasure Ground.
Jarlath's writing is witty and sharp, and captures the beauty of rural and small town life whilst exploring feelings of sadness and isolation. His characters are very much of their generation (born in the 1990s) but their stories will strike a chord with all generations.
''Back then I thought it was perfection. But things change. Oh yes, they do.''
Pleasure Ground will be performed in St. Joseph's Hall, Boyle on Saturday, May 14th at 8pm.
Due to strong language and themes this performance is suitable for over 15s only.
Tickets priced at €12 and €10, are on sale now from Taylors Jewellers, Bridge Street and Únabhán Tourism, King House, Boyle. Tickets will also be available at the door.
"A deadly sharp incision into the heart of contemporary rural and small town Ireland" – James Harold
"Fregoli is obviously not afraid to take on big issues and address them with a mix of black humour and integrity"- Public Reviews/Tricia O'Beirne
"The action, kinetically choreographed and sonorously tuned by director Maria Tivnan, is in the strokes of black comedy but points to darker truths under the surface"- Chris McCormack
STARRING:
Kate Murray, Peter Shine, Eilish McCarthy and Jarlath Tivnan
WRITTEN BY:
Jarlath Tivnan.
DIRECTED BY:
Maria Tivnan