News
Power outages as Storm Barra continues to impact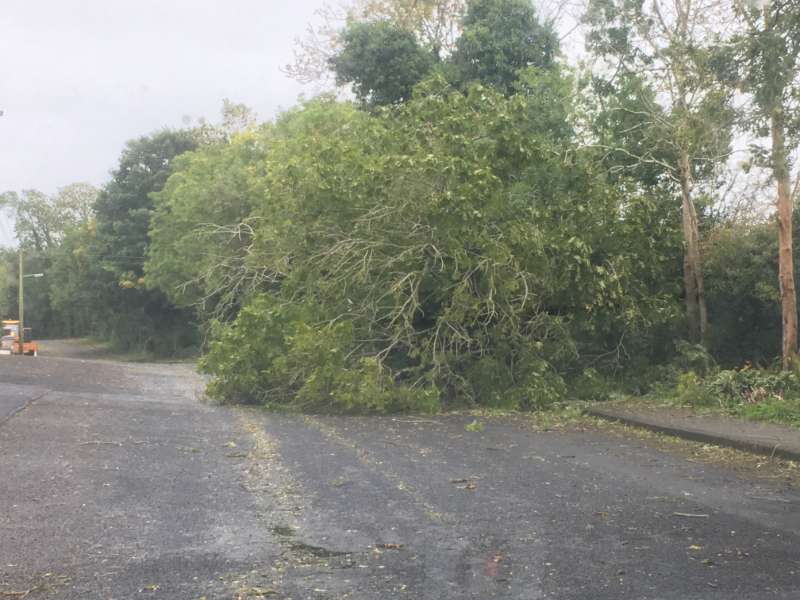 Storm Bara has caused power outages across the country including a number in the greater Boyle area.
700 consumers lost power in The Plains/ Ballinameen/Croghan area of Boyle overnight with another 150 without power in the Knockvicar/Corrigeenroe area
1357 customers lost power in Boyle town at 12.38pm on Wednesday with an estimated restore time of 10.45am Thursday
It will be later today at the earliest before power is restored to many homes.
Schools and colleges in County Sligo and Leitrim remain closed today but schools in County Roscommon are open.
Gardai are advising motorists to drive with care this morning as the storm has left a trail of debris, branches, fallen tress and flooding on a number of roads.
Tree down on R284 between Keadue and Knockvicar
Two trees down on Gureteen to Ballymote road
Tree blocking the old N4 at Ballymote turnoff
Tree down on Keadue road at Ardcarne (8.15am)
Ballinafad to Keash road at Broher closed (9am)
Electricity cables on Ballyfarnon to Sligo road at Conways Cross (9.10am)
Tree blocking Ballyfarnon to Boyle road after turn off for Lough Arrow (10.15am)
Tree blocking Corrigeenroe to Knockvicar road (11am)
Separately, the R294 (old Carrick Road) in Boyle reopened shortly after 9pm last night following a two car road traffic collision.
Gardaí and emergency services attended the scene of the collision involving two vehicles that occurred at approximately 6:30pm on Tuesday, 7th December. No serious injuries were reported with two people brought to Sligo Hospital.
Closures, cancellations and disruptions
Slimming World Carrick moved from Wednesday to Friday Morning
Lough Key Forest Park closed Wednesday
Sligo IT closed Wednesday
Sligo and Carrick Vaccination Centres closed Wednesday
Electricity cables on Ballyfarnon to Sligo road at Conways Cross
WEATHER TODAY – WEDNESDAY 8TH DECEMBER
Storm Barra will continue to bring very windy conditions on Wednesday with further severe or damaging gusts. Cold and windy on Wednesday with further outbreaks of rain turning to sleet and snow for a time in places. Drier and brighter across it the south with sunny spells and well scattered showers. Highest temperatures of 4 to 7 degrees Celsius, in strong to gale force northwest winds, gradually moderating through the evening hours.
TONIGHT
Generally dry, calm and clear for a time tonight with some frost and possible ice. Later tonight, outbreaks of rain will begin to move up in from the west, along with low cloud, hill and coastal fog. Coldest early on with lowest 0 to 3 degrees Celsius.
TOMORROW – THURSDAY 9TH DECEMBER
Overall cloudy to begin on Thursday with scattered outbreaks of rain and moderate southerly winds. A clearance to sunny spells and scattered blustery showers will follow from the west during the afternoon with freshening westerly winds. Highest temperatures of 9 to 11 degrees Celsius.
NATIONAL OUTLOOK
THURSDAY NIGHT: Cold with showers across Atlantic counties, some of hail with sleet on high ground. Lowest temperatures of 1 to 3 degrees Celsius, in a rather brisk westerly wind.
FRIDAY: A cold day with sunny spells and showers of rain or hail, mainly affecting western and northern coastal areas. Afternoon temperatures of 5 to 8 degrees with an added wind chill factor, owing to a moderate to fresh northwest wind.
FRIDAY NIGHT: Patchy outbreaks of rain will feed in across the country, in a mostly moderate southerly breeze. Lowest temperatures of 3 to 6 degrees Celsius.
SATURDAY: Widespread falls of rain will move in across the country with low cloud, hill and coastal fog. Temperatures in the afternoon will range 9 to 12 degrees Celsius, in a mostly moderate southwesterly wind.
SUNDAY: A cloudy day with outbreaks of rain and strengthening southerly winds. Afternoon temperatures will range 10 to 13 degrees Celsius.