News
Project team appointed for Royal redevelopment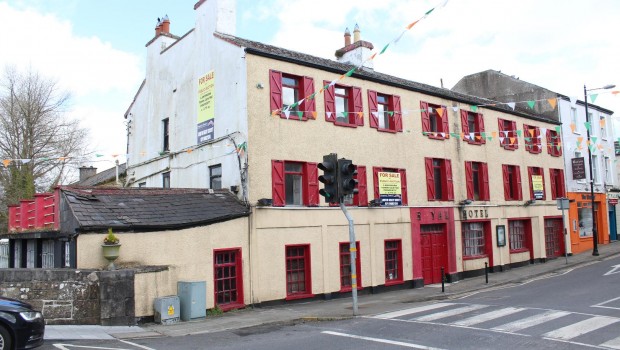 The main project team has been appointed for the €2.3m redevelopment of the former Royal Hotel in Boyle.
De Blacam and Meagher, Dublin are the project architects, Nolan Construction Consultants, Kilkenny are the Chartered Quantity Surveyors, Civil and Structural Engineers are Killian Consulting, Athlone and Varming Consulting Engineers, Roscommon are the projects Service Consultants.
The construction firm who will undertake the project will be appointed in May 2020.
The schedule of work, which was recently advertised on etender,  includes the "Refurbishment works to the original main structure (internal and external) into an Enterprise Centre and Exhibition Space · Works to include; roof repairs, replacement of windows, repairs/painting of the interior/exterior walls, replacement of floors, removal of exterior window shutters, installation of a lift within the original building and installation of heating/electrical equipment · Construction of a River Side Promenade with lighting, seating and landscaping · Construction of a new Civic Space with bandstand, lighting, seating and landscaping to the rear of the original main structure · All other associated site and ancillary works".
It is also understood a canoe docking facility, information point and coffee dock will also be part of the development.
The necessary preliminary onsite work has been ongoing since January in advance of the main construction.
€1.7m in funding was allocated to Roscommon Co Co/Boyle Town Team under the Rural Regeneration and Development programme for the development with additional funding coming from Roscommon County Council.