News
Roscommon benefits from Connected Hubs scheme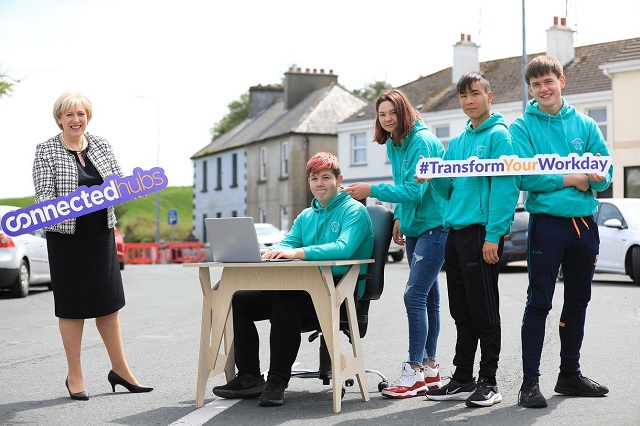 Minister for Rural and Community Development, Heather Humphreys TD, has announced over €8.8 million in funding, including €327,000 for County Roscommon, under the Connected Hubs Scheme – a key deliverable of Our Rural Future.
Roscommon County Council has been awarded €177,444 to develop and expand remote working capacity in 11 BCPs throughout County Roscommon. These BCPs are located in Drumboylan, Boyle, Dangan, Elphin, Tulsk, Athlone, Castlerea, Kiltoom, Castleplunket, Ballyhaunis. This proposal will install access control and security systems, energy efficient and heating upgrades and disability access upgrades.
Arbutus Innovation Centre will receieve €75,000 to increase the number of indigenous companies and entrepreneurs supported in the hub by at least 60%; give access to meeting rooms to local community groups; make the facilities more energy efficient and significantly more comfortable to work in; ensure facilities are safe and in line with COVID-19; upgrade IT facilities and add wheelchair access and signage.
The Spool Factory in Boyle is to get grant aid of €75,000 towards future development, which has been welcomed by owner and operator of the Spool Factory Brian Nerney who said the funds, along with promoter match funding, will go towards completing the new ground floor serviced office suites and new modular offices on the first floor for short term rental. These private offices will accommodate start up businesses and those who want to enjoy all the benefits of being located in the Spool Factory while availing of private office space. The funding will also assist in the implementation of a number of measures to increased carbon efficiency throughout the building.
According to Minister Humphreys, the €8.8m investment will support the ongoing development of the recently launched National Hub Network – connectedhubs.ie – which already has more than 100 hubs using the platform and 380 hubs mapped.
"Our Rural Future recognises hubs as ideal locations for people to work remotely, as well as acting as key economic assets for towns and villages. The increased shift to remote working as a result of the pandemic has provided a golden opportunity for a greater regional distribution of jobs to support a better work life balance for many people. This opportunity is reflected in Our Rural Future and in policy initiatives across the whole of Government, such as Making Remote Work, the National Remote Working strategy".
"The investment announced today will provide an increased number of families and individuals with the option to live and work in our rural communities. Remote working from hubs and Broadband Connection Points benefitting from this funding will also support local economies and assist in reducing our carbon emissions"concluded Minister Humphreys.
The Cathaoirleach of the Dáil Rural Affairs Committee, Denis Naughten, said: "This funding will allow local people living or working away to relocate back to East Galway or County Roscommon as well as providing new opportunities for employment locally.
"Remote working opportunities will help to bring young families back into communities which are struggling to keep local services, such as schools, open and this investment along with the roll out of the National Broadband Plan will transform our towns, villages and rural areas.
"I'm delighted for the successful projects, many of which I have been involved with supporting over the years and I know that the local communities and economy will directly benefit as a result of this investment," concluded Denis Naughten.