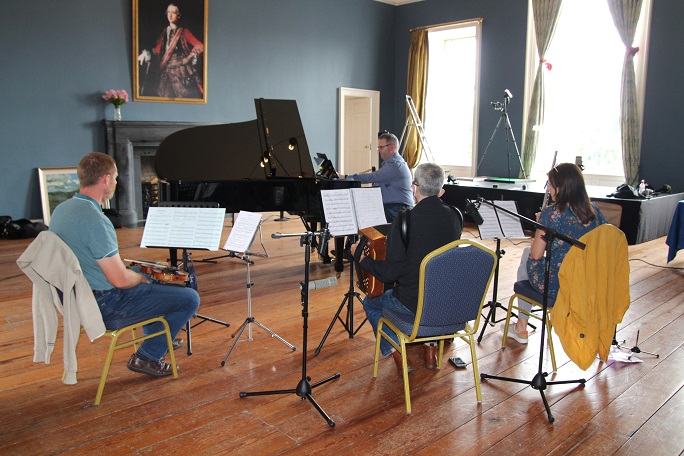 Roscommon County Council Arts Office is pleased to introduce Sraith na Búille (The Boyle Suite) composed by Ryan Molloy, performed by Ryan Molloy (piano), Mossie Martin (fiddle), Steph Geremia (classical and traditional flute) and Alan Kelly (piano accordion).
Sraith na Búille merges the worlds of classical and traditional with uplifting, exceptional music, marking another extraordinary year in our lives and in the arts.
https://www.youtube.com/watch?v=3jevzSsGjI4
Due to the ongoing Covid restrictions, the premiere could not be performed live during Boyle Arts Festival and was instead filmed in the Main Salon of King House Boyle, where the Grand Piano is at the heart and soul of the house, and streamed to audiences around the world from August 14th on boylearts.com.
The commission is the first in a series in celebration of the Steinway Grand Piano at King House, purchased by Roscommon County Council in 1998 through the Arts Council Joint Purchase Scheme.
The commission and performance was funded by the Arts Office of Roscommon County Council together with the Arts Council of Ireland and Boyle Arts Festival, in association with the Contemporary Music Centre.
Photograph by Benny Morgan