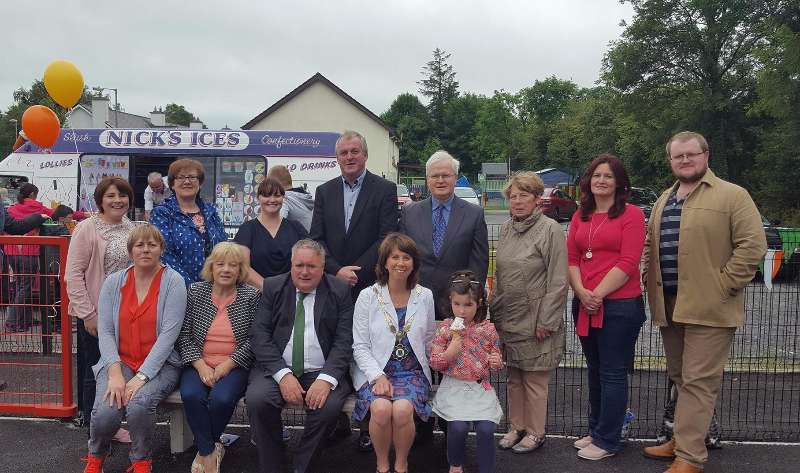 Strokestown playground will be a centre of fun and enjoyment for children and families for generations to come- that's according to Fianna Fáil TD for Roscommon/Galway Eugene Murphy who was speaking at the recent opening of the Strokestown Community Playground.
The playground which is located on the Boreen Road in Strokestown was officially opened by Childhood Cancer Survivor, Isobel (Izzy) Cullinan from Strokestown while the Mayor of Roscommon County Council Orla Leyden, Cllr Valerie Byrne, chairperson of the Boyle Municipal District, Cllr Joe Murphy and Cllr John Cummins were also in attendance.
Local Parish Priest Fr Eamon O' Connor also blessed the playground and joined in the celebrations. Deputy Murphy who is the chairperson of the Strokestown Community Development Association noted that it had been a long and often difficult journey over 12 years to bring the playground into realisation but it would now be a fantastic facility for generations to come. The Fianna Fáil TD acknowledged the recent CLAR funding of €50,000 towards the playground while he noted that Coillte had also generously contributed to the facility. Deputy Murphy also praised the Ulster Community Fund for putting the financial structures in place while the efforts of Roscommon County Council and the many generous donations from members of the public and local business community were also acknowledged. Deputy Murphy also praised the Kompan Playground Equipment for their workmanship and their patience.
Speaking in relation to the recent CLAR funding Deputy Murphy acknowledged the work of his fellow committee members Ann McNamara who vigorously pursued this grant and indeed Shane Lynskey and other committee members for all their hard work on this project.
"The €50,000 in CLAR funding will allow the completion of Phase I of the playground and will also go towards developing Phase II of the playground which will provide further enhancements for the children as well as some seating area for adults. This playground is a fantastic facility for the children of Strokestown and wider afield and will be a huge asset for the town and visitors to the area for years to come. Huge praise must go to the hard working committee who never faltered in their dedication to the development of a playground for the children of Strokestown and after many years of disappointments and difficulties it is fantastic to finally reach this point," concluded Deputy Murphy.
Pictured at the recent opening of the Strokestown Community Playground were back row l-r: Michelle Dockery, committee member, Cllr Valerie Byrne, Linda Hanly, Cllr John Cummins, Shane Lynskey, Treasurer of Strokestown Community Development Association, Maureen Hanly, Secretary of SCDA, Mary Owens, committee member and Emmet Corcoran,Town Team. 
Front row- L-r: Ann McNamara, committee member, Annette Feeley, committee member, Deputy Eugene Murphy, chairperson of the SCDA, Cllr Orla Leyden and Isobel (Izzy) Cullinan who officially opened the playground.