News
King House open for Summer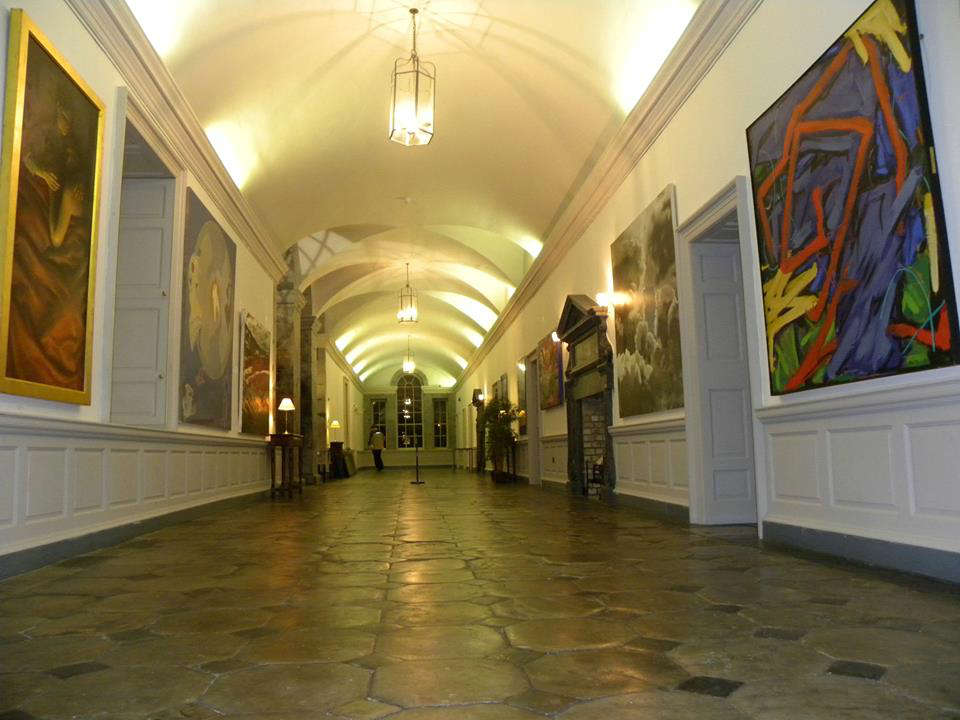 King House in Boyle is once again open for the 2015 summer season. The house, which is a popular tourist destination, also attracts locals with its summer programme of arts events, which includes the annual Boyle Arts Festival.
This year's programme places a strong focus on visual art, with artists Christina Mackey and Maria McKinney both showing work in the House's Long Gallery. Selected works, which respond to that of the artists, from the Boyle Civic Art Collection will also be on display as part of the exhibitions.
Artist Christine Mackey's show entitled "The Lung" is now on show. The project involved students from St. Nathy's College Ballaghaderreen and the local public and led to the production of a map devised through a series of inventive strategies for exploring the town of Ballaghaderreen. Materials and historical documents from the process, along with the "Backlands" map are now on display for the public to enjoy in King House and all are welcome to explore until mid-June.
The month of May sees a nationwide celebration of creativity in older people in the Bealtaine Festival and King House participates in this year's festival with a traditional music performance from musicians Ciarán Ó' Maonaigh and Caitlin Nic Ghabhann, as they open our 2015 Salon sessions in association with Age and Opportunity.
Ciarán Ó Maonaigh is a fiddle player from Gaoth Dobhair, County Donegal. A grandson of Proinsias Ó Maonaigh (a.k.a. Francie Mooney), he was the 2003 TG4 Young Traditional Musician of the Year. To co-incide with Bealtaine, he's on the road with Caitlin Nic Gabhann, a three times winner of the All-Ireland Fleadh Cheoil on concertina. The concert takes place on Wednesday 20th May at 8pm and tickets are priced at €15, €12 concession (students/diabled) and as it's Bealtaine, we're offering a €10 for anyone over 50 who wishes to come along to the event.
Other summer events include the "Paths to Freedom" lecture series on the weekend of May 22nd and 23rd which focuses on what is commonly known as "the long decade" in Irish history from 1912 – 1923. Lectures will concentrate on the changing nature of Irish politics, work, class and gender roles at that time. Guest speakers will include Myles Dungan, Turtle Bunbury, Dr. Ciaran Wallace, Gordon Power, Dr Mary McAuliffe and Marie Egan Paul and a night of songs, stories and dramatisation entitled The Lovely War will also be staged as part of the two day event.
The theatre programme kicks off in June when Donal O'Kelly graces the stage as we celebrate James Joyce and Bloomsday and this is followed in July when popular Leitrim playwright Seamus O'Rourke makes a welcome return to the stage. Boyle Arts Festival takes up residence at the end of July and we get into the fleadh fever when Sean O Se, Martin Donohoe and the Nyah's set up for a session in early August.
We bring the season to a fitting finale when we mark Culture Night and Yeats 150 in the company of leading Pianist Therese Fahy, this free recital will include a performance of Roscommon based composer, Siobhan Cleary's piece composed to mark the Yeats 150 centenary.
Tickets for all events can now be obtained from King House's reception desk or purchased via Roscommon Arts Centre: 0906 625824/www.roscommonartscentre.ie.