GAA
"Thousandaire" in Boyle Saturday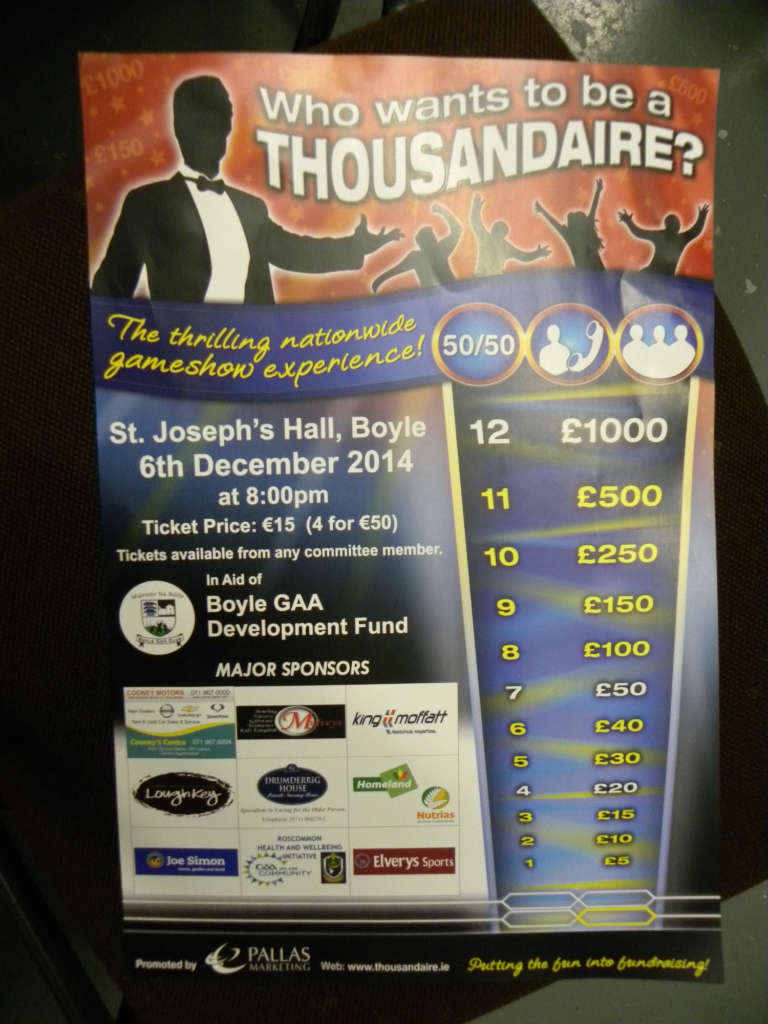 Boyle GAA Clubs (the Male Club and the Ladies Club) have joined forces to host the hugely popular "Who Wants to be a Thousandaire" show to St Joseph's Hall, Boyle on Saturday 6
th
December.
T
his show has attracted large audiences all over Ireland over the past seven years and is fast becoming the most popular source of fundraising for schools and clubs.
Contestants are drawn from ticket sales and each contestant will play for €1,000. The show is fully computerised with 50/50, Ask the Audience and a brilliant video linked Phone a Friend. The questions and four possible answers are displayed on two 8ft by 6ft screens, one at each side of the stage.
This incredibly successful show, which is provided by Pallas Marketing Limited, is being run by Boyle GAA Clubs to assist in fundraising to reduce outstanding debts on its excellent Clubroom and pitch and to provide funding for future development at the grounds.
The launch night for the show was held in the
clubroom in the Abbey Park on Wednesday 5
th
November before a large audience, including representatives of our nine major sponsors—Cooney Motors, Boyle,—
Drumderrig House Nursing Home, Boyle— Elverys Sports – Homeland Nutrias Animal Nutrition — Joe Simon Home and Garden and Build, Boyle.— King and Moffatt Electrical, Carrick on Shannon—, Lough Key Forest and Activity Park,—Mulveys Bowling, Nursery, Giftware, Toymaster and Kids Kingdom, Carrick on Shannon,
—, and Roscommon GAA Health and Wellbeing Initiative. Also present was Mr Tom Shanahan from the show providers, Pallas Marketing. The first purchasers of tickets on the night were Sean O'Dowd and Fiona Mattimoe.
Club Secretary Mary Clifford and Club Chairperson Martin Dolan stated that they had recently seen the "Who Wants to be a Thousandaire"show in Tuam
and they were most impressed by hi-tech nature of the show and the excitement generated by the quiz competition itself, especially when competitors were on the cusp of winning €1,000. They enjoyed the buzz from the audience who obviously enjoyed every minute of the three hours of the show.
Those who come to St Joseph's Hall on 6
th
December will have a night to remember. The show is timed to start at 8pm and we encourage patrons to purchase their tickets early as there will be a full house and numbers are limited. All tickets must be purchased in advance and they are available from the officers of Boyle GAA Clubs (Male and Female Clubs).
All ticket purchasers who attend on the night have an opportunity to have their ticket drawn out to enable them to compete in one of the nine rounds of the competition. A total of €9,000 may be won on the night. Ticket purchasers may put their own name on the ticket or alternatively they don't want to go on stage, they may put the name of a friend who may compete instead.
We would like to say a special word of thanks to our nine major sponsors and to in excess of 100 businesses who have advertised with us. There is still some large screen advertising available and those wishing to advertise should contact any of the officers within the next week or so.
To see how the show works check out this video clip:
http://www.youtube.com/watch?v=o33wuGlxwQ0