Events
Two day conference starts today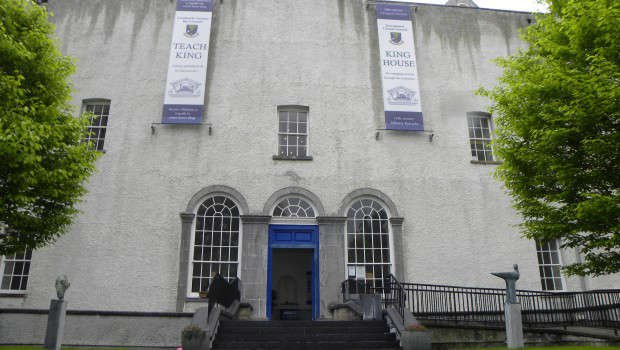 A special two-day history event will take place in King House this weekend hosted by Roscommon County Council, Arts Office and Library Services.
Paths To Freedom, which will take place from May 22nd to 23rd, is aimed at examining and explaining the many "shades of green" that existed in Ireland in the run-up to the Easter Rising of 1916.
Building on last year's successful Great War Roadshow at King House, this year's event continues to showcase the so-called 'long decade' of 1912-1923, which was a pivotal decade in our nation. As we move towards the centenary year of 1916, it is important to provide opportunities for communities to become involved and to explain that the Rising was part of the narrative of the emerging Ireland, not the whole story.
Paths To Freedom will outline the changing nature of Irish politics, work, class and gender roles in the years leading up to independence. This event is part the Ireland 2016 preparatory local awareness programme.
The two-day event will take the form of a day of lectures in King House on Friday May 22 and half day on Saturday 23rd May followed by a musical evening on May 23 – with broadcaster Myles Dungan the Master of Ceremonies on both days . The lectures will feature well-known expert speakers from the worlds of TV, radio and academia, with a local perspective on Cumann na mBan and the struggle for women's emancipation.
An exciting musical evening has also been included in the programme this year which will fill King House with songs and stories from World War 1, performed by The Brook Singers, with soloists Sadhbh Burt Fitzgerald, Jonathan Creasy, actor/tenor Brendan MacQuaile and pianist Ronan Murray.
SCHEDULE: FRIDAY, MAY 22
9.45am: Introductions and Welcome/ Cathaoirleach:Cllr John Cummins Roscommon County Council
10.00am: Dr. Myles Dungan – Selling the Great War in Ireland 1914-1918
11.00am: Tea/Coffee Break
11.15am: Dr. Ciaran Wallace – Over There & Over Here: Ireland During The War Years
12:15pm: Gordon Power – The Irish At Gallipoli/Tracing Your WW1 Ancestors
1.00pm: Lunchbreak
2.00pm: Turtle Bunbury – That Easter Dawn – The Personalities Of The 1916 Rising
3.00pm: Damian Shiels – The Conflict Landscape of Ireland
SCHEDULE: SATURDAY 23

rd

MAY
10.00am: Dr. Mary McAuliffe: Pre 1916 Cumann na mBan: National & Local Paths to Revolution
11:00am: Tea/Coffee Break
11:15am: Marie Egan Paul. Around the Bridges. Margaret Cousins And The Struggle For Women's Emancipation
8.00pm to 10.00pm: Musical Evening: From 'Tipperary' to 'The Green Fields of France'
Principals
Dr. Myles Dungan
Myles presents The History Show on RTE Radio 1 and is the author of multiple books – including Irish Voices From The Great War (1995), They Shall Grow Not Old (1997) and Mr Parnell's Rottweiler (2014).
Turtle Bunbury
Turtle is a presenter on The Genealogy Roadshow on TV. His published works include the best-selling 'Vanishing Ireland' series and, The Glorious Madness – Tales of the Irish and the Great War (2014). His new book, 'That Easter Dawn – The Personalities Of The 1916 Rising', will be published in the autumn.
Dr. Ciaran Wallace
An academic and broadcaster, Ciaran is a social historian with Trinity College, Dublin.
Damien Shiels, MA
A specialist in military archaeology, Damian works with Rubicon Heritage Services (formerly Headland Archaeology Ireland). He has managed a large number of high profile projects, including the Irish Battlefields Project and is a former Assistant Keeper at the National Museum.
Gordon Power
Gordon is a historian and an expert in military genealogy.
Dr. Mary McAuliffe
Historian and academic, Mary lectures at UCD Women's Studies. She organised the 4-day national commemoration of the founding of Cumann na nBan and was the historical consultant on the Cumann na mBan documentary broadcast on TG4 in March 2015
Marie Egan Paul:
Marie is a former member of Boyle Town Council and last Mayor of Boyle. She has been involved in many local organisations to promote and improve the town and its environs. With a particular interest in historical events, Marie wrote the script for the re-enactment of the Battle of the Curlieus held in 1999 and more recently participated in the NUI Local History course researching the life and times of Boyle woman native Margaret Gillespie Cousins, a renowned suffragette and friend of Francis Sheehy Skeffington, Yeats, Joyce and eventually Gandhi in India
Local Interest Programme Note: Margaret Cousins (1878 – 1954), was born in Belmont, Boyle, County Roscommon. A teacher and worker for women's rights, she was a founding member of the Irish Women's Franchise League and the All India Women Conference.