News
Updating underway of local visitor information boards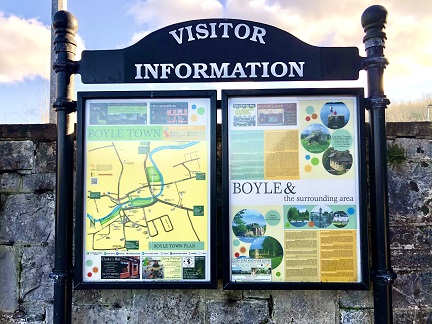 Úna Bhán Tourism are currently in the process of updating the three Visitor Information Boards currently in place in Boyle, which are based in the following locations:
Boyle Marina
The Crescent, Boyle
Boyle Train Station
Each board will include a Town Map and Visitor Information, where your business can be highlighted.
"We are requesting a contribution of €50 to support the design and updating of the boards to direct visitors as effectively as possible and ensure they have a positive experience when they arrive to the area".
"This fee includes your business name and contact details listed and pin pointed on the Boyle Town Map You will also be included on the townmaps.ie website".
**Please note that advertising will not be in a business card format but entered as a listing so as to avoid overcrowding .**
Deadline for confirmation of your entry and payment by Friday March 6th.
Payment Options:
Bank Transfer:                 Bank of Ireland, Boyle
Account No.                     47234541
Sort Code:                        90 53 28
IBAN:                                 IE81 BOFI 9053 2847 2345 41
BIC:                                    BOFIIE2D
Or alternatively you can pay by Cash or Card in Úna Bhán Tourism Office, Grounds of King House. Opening Hours 9am to 5pm, Mon – Fri.