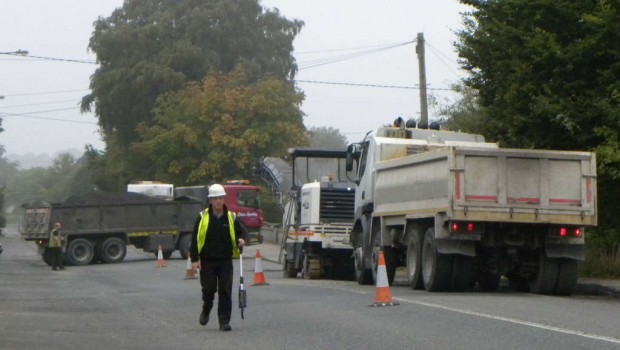 A definite time frame must be put in place for the upgrading of the N5 which has been included in the capital plan.
That's according to local TD Eugene Murphy who also said that a definite time frame must be put in place for such vital works.
Deputy Murphy raised the matter with Taoiseach Leo Varadkar during Questions on Promised Legislation in the Dáil in October, however no plan has been announced or proposed.
Deputy Murphy said:  "The total lack of health and safety plans in place at junctions on the main N5, namely Tarmonbarry, Tulsk and Frenchpark is shocking. I have continually raised this issue in the Dáil with the Minister for Transport Shane Ross as well as the Taoiseach Leo Varadkar."
"Each day motorists, cyclists and pedestrians are expected to take their lives in their hands when trying to negotiate these dangerous crossroads. The N5 and N4 have been allocated funding by the TII yet these junctions are still very dangerous. At this time of year these junctions are not well lit and have multiple entrances and exits that motorists and pedestrians have to negotiate to carry on their journey. The main junction in Tulsk is not well marked, has little or no signage on the Boyle side of the junction to slow traffic coming into a major junction. There is a busy filling station on the junction also that sees traffic pulling in and out without any official entrance or exit strategy in place. This all causes any traffic trying to cross the main N5 or go through this junction without any right of way on any side".
"The speed of the traffic going through these villages is totally unacceptable and needs to be controlled. Signage is simply not enough, we have to ensure that traffic calming barriers are put in place before we have any more major accidents on this stretch of roads. Schools, churches, community facilities are all affected by the total lack of health and safety at these junctions.  I welcome that the TII has been granted funding for this stretch of road, but in the interim I am calling on a Health and Safety assessment to be carried out and traffic calming put in place as a matter of urgency. This will hopefully see a reduction in speed".
"In the programme for Government, there was considerable hope given to those of us who were speaking about the development and upgrading of the national primary routes. I refer to the national primary routes, the N4 and the N5. Both of those are in a deplorable state and they need to be upgraded. Those are two vital organs, east to west. As the Taoiseach probably will be aware, many of the businesses in the West are complaining about the state of the N5. I welcome the work by the Roscommon County Council and understand that they are in the process of negotiations for the major plan but funding must be allocated urgently to these junctions " said Deputy Murphy