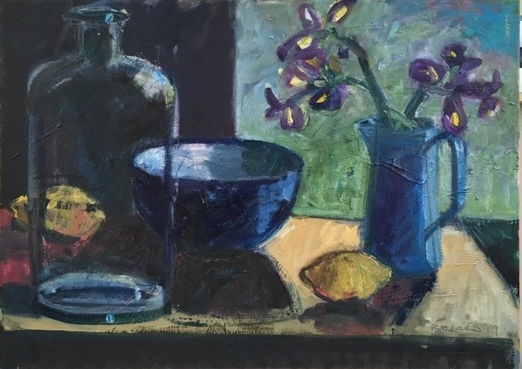 The 30th annual Boyle Arts Festival and Visual Arts Exhibition will be officially opened by Professor John Crown in King House on Thursday July 18th at 8pm. The evening will be celebrated with performances by street theatre by Curious State' 'Morbid & Sons', and music from Me & the Lads, featuring Sinead Conway.
(By Brendan McGee)
Earning its place as one of Ireland's most anticipated summer celebrations of the Arts, this year's main exhibition is entitled 'Legacy' and it will feature the works of over 150 established and emerging Irish visual artists from across Ireland. This is one of the most important exhibitions of contemporary Irish art in the country and it serves as the jewel in the crown of a jam-packed multi-disciplinary nine day Arts event, in the most gracious of surroundings.
The exhibition has once again been curated by Paul McKenna of the McKenna Gallery in Omagh.
Artists include Diane Henshaw, Colin Davidson, Samantha Ellis Fox, Stephen Lawlor, Frances Crowe, Vida Pain, Malachy Costello, Patrick MacAllister, Amelia Stein, Clive Bright, and Colin Watson. The Main Visual Art exhibition is open between 11am and 6pm every day and during events in King House, from Friday July 19th until 5th August.
Here in Boyle, we have the finest collection of contemporary Irish art which spans the 30 years of the Festival's life. Indeed, as civic collections of Art go, the Boyle collection punches high above its weight and is one of the foremost of its kind in the country. This didn't simply happen overnight. Rather, it is the result of years of effort and toil driven largely by one man, namely, the late Fergus Ahern. It is because of both the vision and determination of Fergus that the Boyle Arts Festival, as well as the Civic Collection of Art, endures so well today. In grateful recognition of this and to celebrate the 30th Anniversary of the Boyle Arts Festival, the Arts Festival Committee will call on Marian Ahern to launch the first of what is to be an annual Fergus Ahern Award for merit, to an artist with work in the Main Exhibition.
The Open Art Exhibition in the Parochial School provides a forum for artists who would otherwise find few opportunities to display their work and attracts entrants from all over Ireland. The art is always of an exceptionally high standard and the exhibition provides an important showcase of local talent.
Main Street in Boyle will be home to several exhibitions during BAF 2019.
'Boyle – Through A Child's Eyes', in the windows of the old Xtravision building, will see a selection of photographs taken recently by local schoolchildren, as part of the Creative Ireland programme.
Also look out on Main Street for 'A selection of paintings from Roscommon & Mayo' by Malachy Costello and 'Displaced', a selection of paintings and installations by Margie Dunne. Five very different artists come together under the umbrella of New Art Gallery, to create beautiful works of art and you can see their work in Xtravision. Local artist, Annette Gaffney will also exhibit her work in the Ardacrne Garden Café while local photographer Tony Murphy will exhibit a display of local interest photographs in his premises on the Crescent.
The renowned Boyle Camera Club, with over 60 members, will showcase a rich and diverse range of their photographic images in the town library at King House, during library hours from July 18th to 27th.
Also, keep an eye out for 'pop-up galleries' and small exhibitions in various premises and shop windows in the town, during the course of the Festival.
Please note that entrance to all exhibitions is free.
For more information, see our programme or call in to The Festival office, next door to Marian's on Bridge St. The office will be open every day (excluding Sundays) from July 8th until July 27th. For more information, please visit www.boylearts.com Tel. 071 9663085. Email [email protected] or find us on Facebook, Twitter and Instagram.
Boyle Arts Festival acknowledges the support of the Arts Council, Fáilte Ireland, Roscommon Leader Partnership, Local businesses and Roscommon County Council.