News
A busy three hour Tuesday in Boyle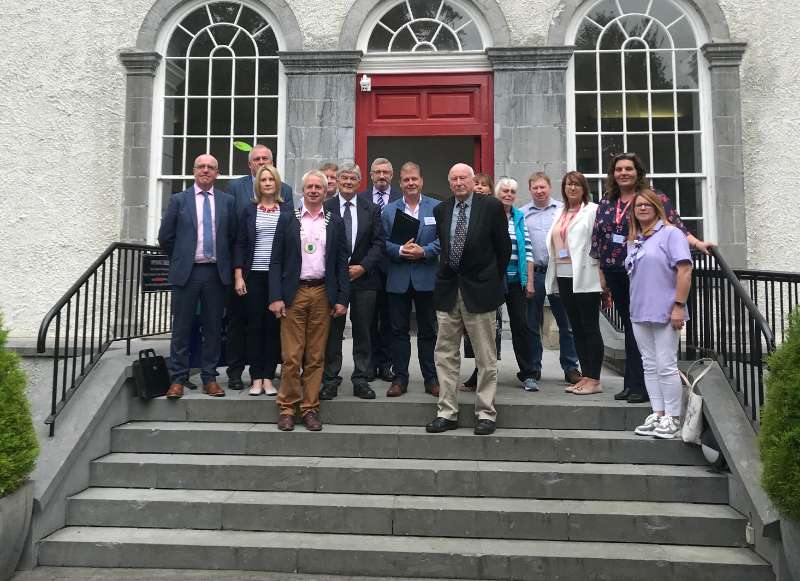 A bright warm day welcomed the judges to Boyle on Tuesday afternoon for the Pride of Place competition.
Ex Monaghan County Manager Declan Nelson and former Wicklow County manager Blaise Treacy spent 3 hours in the town viewing all that we have on offer and all that we plan to have on offer while being informed of the great community that exists in the town.
The duo were greeted in King House by Brian Nerney Chairman of Boyle Town Team and members of the Town Team along with members of the Pride of Place committee.
A number of local organisations had set up stalls in the grounds of King House as the judges entered..
They also viewed the Connaught Rangers room and McAleese Collection.
An oral presentation then took place, with a welcome by Thomas Keaveney from the Brothers of Charity, followed by Jackie Valentine on behalf of the Tidy Town Committee and Pride of Place committee and Brian Nerney (Town Team).
A short video of the town, produced by Carlo Cretaro and Florence Murphy from 'Next Stop who Knows' was then shown.
You can view the video here
Following a question and answer session the judges, accompanied by the committee toured the town.
Some of the items outlined included:
Una Bhan offices, King House Tea Tea Rooms Christmas Diner, Maureen O'Sullivan homecoming, Vacant window art display, Pilot Residential Occupancy Scheme, Historic Towns Initiative for Main Street, Hospice Shop, Credit Union, Spool Factory, various churches, flowers on poles, Rock the Clock, Shambles development, flowers at Shambles and on Crescent, Angling club river clean up, Boyle Community Sports Development Association plans for Termon Lands, Royal development, Arts Festival office, Enterprising town window display, Roscommon Herald, Tangier Tots and other childcare facilities, Courthouse plans, Christmas lights, Mens Shed, John O'Reilly plaque, Drumanilra plans, Primary Care Centre, Plunkett Homes, Ambulance base, Famine graveyard and Station road awards, Una Bhan mural, Enterprise Centre, Dalys Storehouse, Tusla Office and Neighbourhood youth project, Fire Brigade display and painting of stones by ladybirds.
The judges then boarded the Local Link bus to journey to Lough Key Forest Park, as the skies opened, and were shown the following:
Pleasure Grounds, VTOS centre, Abbey, GAA, Resource Centre, Medical centre, affordable sites in Forest View, Training pitch and various uses, Warren Residents welcome to Syrian families and community garden, cycle path route, second gate lodge plans, Zipit, Caravan park, Segway, bike hire, boat tours etc. Marina and Canal, Boyle Celtic, Church of Ireland lights with finish in Family Resource Centre.
FRC manager Louise Moran then took the judges on a tour of the facility and introduced them to some of the 160 volunteers there on the day.
Finally another video produced by Ciaran Casey from Wilsain Media and voiced over by native son Chris O'Dowd was shown before concluding remarks.
You can view the video here
The results of a busy three hour Tuesday in Boyle will be know in November.