News
Boyle supporters 'trip of a lifetime' to feature on TV tonight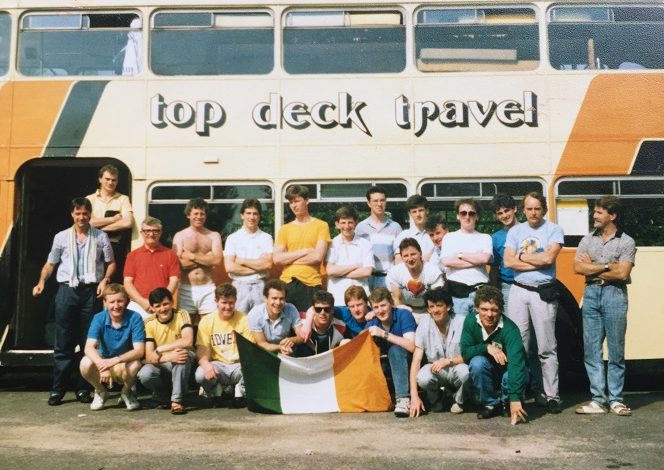 A memorable trip to Germany by a group of Boyle soccer supporters in 1988 will be remembered tonight on RTE's Nationwide programme.
It is scheduled to air at 7pm on RTE1 but could be subject to change.
The 22 supporters left Boyle in June 1988 for the European Football Championships and a trip to remember.
Boarding the 'soccer special' ferry from Rosslare, the group arrived in Le Harve and boarded their 'home' for the next two weeks – a customised double decker bus (pictured above).
The organiser of the event was now Dail Deputy Frank Feighan who told Boyletoday.com it was a trip of a lifetime:
"The trip cost us £295. That included our transport, accomodation in the bus, 3 match tickets and food and drink".
"We slept upstairs and eat downstairs."
"We travelled to St Witz which at that time was twinned with Boyle and we played a soccer friendly there beating the home team. We also went to Stuttgart, Heidelberg, Hanover, Brussels, Bruge, Amsterdam and many other cities. It was a trip of a lifetime".
"I remember when we got back to Boyle, we were treated like heroes and met at Greatmeadow and brought through the town on the back of a lorry and we were only the supporters!!".
Donal Byrne from Nationwide gave Boyletoday.com an indication behind the idea for the segment: "I was struck last weekend by the contrast between the re-opening of the German Bundesliga (premier league football) with no crowds and no atmosphere and what it what was like back in the day when Germany became the destination for thousands of Irish fans bringing gaiety, colour, humour and fun to Stuttgart for the Euros back in 1988. Boyle, it seems, was to the fore when Frank Feighan organised the double decker bus for Boyle FC and other fans to make the journey. It was to be the beginning of a long journey for Ireland soccer fans but the Boyle Bus stands out as a testament to the lengths people were willing to go to following the Green Army."
Tune into RTE's Nationwide tonight when the trip will get some air time.
(Photographs courtesy of Deputy Frank Feighan. See also the Boyle'd Pot)