News
Boyle Abbey features on CIE Tours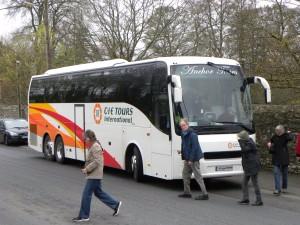 The first CIE Tour of 2017 arrived in Boyle Abbey on Sunday last at approx.
This was the combined SCOTS-IRISH TOUR 11 or 15 Day Tour.
The Tour starts in Edinburgh and day 8 includes a tour of Glenveigh Castle Co. Donegal, lunch in Donegal town, (last year lunch was in Clarkes in Boyle) and a Tour of Boyle Abbey then overnight in Kilronan Castle hotel.
Day 9 visit Enniskillen and return to Kilronan with Galway and the Cliffs of Moher on the agenda the following morning.
There are no other CIE Tours visiting Co. Roscommon destinations this year.
The only other Tour to visit a Co. Roscommon facility last year, the 11 Day ELEGANT IRELAND TOUR which visited Strokestown Park House and Museum on Day 3 is not operating this year.
(With thanks to Neil McGarry for this information)
You can view the CIE Tours promo video here