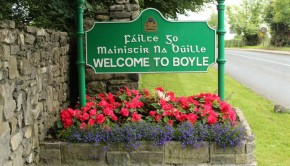 RUN WALK N ROLL
Run Walk n Roll 2019 will take place in Boyle on Sunday 20th October at 3pm. This is the 24th year of the annual event in aid of Cancer Research. It is a 5.4km Run / Walk for all ages and we encourage everyone to come out and participate. If anyone or group want to dress up or push a bed (bed available) they are welcome. Sponsorship cards are available and entry is on the day with registration from 1.30pm. Looking forward to seeing you there and supporting a worthy cause. Contact Damian (086 394 2388).

TAWNYTASKIN CENTRE
Social Dancing Classes Commencing Thursday 17th October with Nicola. 7.30pm to 9pm. €3 per night or €15 for 6 sessions.

PAEDIATRIC FIRST AID WITH ABSOLUTE SAFETY
Paediatric First Aid with Absolute Safety on Thursday October 17th 9.30am-4.30pm in Boyle Family Resource Centre 0719663000.  Booking essential. Cost: €40

SOCIAL DANCING
Tawnytaskin Community Centre will host Social Dancing classes starting on 17th October at 7.30pm for six week. For further information, contact 086 813005.
MS IRELAND MEETING
An Open Branch Meeting of MS Ireland Roscommon Branch will take place on Tuesday Oct 15th at 7.30pm in St. Joseph's Resource Centre, Abbeytown. New members and all interested parties very welcome. Call or text 086 791 4580.
MYTH & HISTORY LECTURE PROGRAMME 2019-2020
Lecture Programme takes place in Castlecoote House, on Thursday, 24th October at 8pm. Life in contemporary Ireland is enriched by the remarkable flourishing of festivals all over the country celebrating the richness of Irish culture, history, and talent. But we do not celebrate our Irish Christian heritage. Catholicism world wide is characterized by uplifting liturgical celebrations and bright public festivals–except in Ireland. Can this be changed? Is it possible to celebrate in the shadow of recent revelations of institutional and clerical abuse? If so, how?  for more information go to www.castlecootehouse.com 
LOUGH KEY PRIORITY AREA FOR ACTION 
At present, water quality in Lough Key and its inflowing rivers is not as good as it could be. You are invited to an Information Meeting to hear about plans to improve water quality in this locality. There will be an opportunity for questions and discussions with the people who will be working in your local catchment. This is a new approach aimed at improving water quality and everyone can play their part! The area covered by the Lough Key Priority Area for Action stretches from the townlands of Kiltycreaghtan to Clegna and Aghacarra to Rusheen. Where: Lough Key Forest and Activity Park Visitor Centre, at 7.30pm, on 24th October. Contact: Noreen Shryane (085 804 7635 / [email protected]) or Mick Kane (085 808 3064 / [email protected]) www.watersandcommunities.ie
AUTUMN EVENING CLASSES
The following night classes are on offer this Autumn in Abbey Community College, Boyle 
Wednesday 23rd October: • The internet & social media • Christmas baking
Thursday 24th October • Digital Photography • Introduction to TAS accounting • Gardening
All courses run for 5 weeks from 7.30-9.30pm. Grants available to social welfare candidates
Contact Karen on 086 795 8572 for more details
'TRUE FRIENDS'
Three act play takes place in Tawnytaskin Community Centre on Friday 1st November, doors open at 7pm and play at 8pm. This will be a play not to be missed. Tickets €10 and seating is limited, so get your ticket ASAP. On sale in Adam's Apple, Brendan McGee Jewellers, Una Bhan, Mary Nicholson and Ann McGlynn. At a cost of €10. There will also be a raffle on the night. Contact Ann on 086-8130005 to book.
BOYLE CHAMBER LOTTO JACKPOT WON 
After 17 years of supporting Boyle Chamber Lotto and using the ages of her children as her weekly numbers, Liz Gannon of Ardagh, Boyle finally struck lucky.
Liz is delighted with her win but equally delighted to have supported the Lotto and have seen the funds support so many Community projects in Boyle over the years including:
Purchase of First Gate of Rockingham- a planning application is being submitted for the Gate Lodge in the next few weeks. This will involve another substantial investment by the Chamber from lotto funds

€35,000 to the Courthouse Project where the renovation work is at an advanced stage and work on the roof has been substantially completed.

Restoration and erection of Stewarts Mill Engine project at St Patricks Street, which was praised by the adjudicator in the Tidy Town Competition report published recently

Complete New Christmas Lights & Fixtures for Boyle costing in excess of €40,000 and has fundraised annually (approx. €6,000) which covers insurance and running costs each year

Annual contribution to Boyle Tidy Towns Committee who do a remarkable job on the flowers and beds in the town

Lighting of Boyle Abbey & Church of Ireland –two impressive historical buildings on our approach roads

St Patricks Day Parade

Boyle Arts Festival

Boyle Musical Society

Abbey Community College Musicals

Easter Pike Angling Festival
Boyle Chamber are also delighted to have their Enterprise Centre full to capacity and look forward to working together with Boyle Town Team over the coming year. Liz is a native of Cavan but calls Boyle her home and is an active member of the Boyle Community. She assists annually in the fundraising of the Boyle Christmas lights which is a Chamber lead initiative and which will be commencing again in the coming weeks.  On behalf of Boyle Chamber of Commerce, heartiest congratulations to Liz on her win, and sincere thanks to all who support Boyle Chamber Lotto which has enabled the Chamber to support so many projects over the years. The Chamber Lotto takes place on Monday nights at 11pm and tickets are €2 each and available in all retail outlets.
NEW CEMETERIES MAPVIEWER
New Cemeteries Mapviewer to be launched at Seminar on Historic Graveyards. Roscommon County Council is hosting a seminar on the care and conservation of historic graveyards in the Seminar Room of the County Library on Wednesday 23rd October from 2.00pm to 4.30pm.  This should be of interest to anyone with an interest in caring for and maintaining historic graveyards in the county. Cllr. Paschal Fitzmaurice, Cathaoirleach of Roscommon County Council will get proceedings underway. John Tierney, archaeologist from Eachtra Archaeological Projects will give a talk on the care and conservation of historic graveyards especially with regard to caring for delicate masonry ruins and historic memorials.  Michael Bell, heritage expert from Nature Learn will give a talk on how best to care for nature and wildlife in a historic graveyard. John Tierney, archaeologist, will also give a talk on how best to record historic graveyards with useful tips on how to photograph the memorials and read the inscriptions without damaging historic stonework and how to present the information to the public. Mary B. Timoney, independent scholar, will give a talk on the decoration of memorials in Co. Roscommon. Jim Ganly, local historian, will demonstrate the new cemeteries mapviewer, which can be accessed on www.roscommoncoco.ie/cemeteries. Cllr Joe Murphy, Chairperson of County Roscommon Heritage Forum will perform the official launch.
The seminar is free but booking is required as places are limited. Please email [email protected] or phone Claudette Collins on 090 6637205 to book your place.
PILGRIMAGE TO THE HOLY LAND
A special Christian Solidarity Pilgrimage to the Holy Land lead by Bishop Kevin Doran will take place from February 16, 2020 for eight nights, visiting Bethlehem, Nazareth, Jerusalem and the other sites associated with the life of Jesus. The trip will be a unique opportunity to experience the Holy Land with experienced guides. Price is €1,540 per person sharing which includes dinner, bed and breakfast for eight nights, all coach transfers and admission to all sites. To reserve your place, please call Marian Pilgrimages on 01 878 8159 or email [email protected]
LONG TABLE DINNER EXPERIENCES
As part of Una Bhan Tourism's collaboration with Failte Ireland's Taste the Island initiative, we are facilitating two exciting Long Table Dinner Experiences.  The first of which will take place on Sunday October 20th in the home of Justina & Liam Gavin, owners of Drumanilra Organic Farm.  The event will include an exclusive tour of the Organic Farm, followed by a delicious six course taster menu. The menu will be prepared and presented by Mary & Jorn of Lovely Leitrim Barge using the farm's organic ingredients and produce. Call Sabrina on 071 966 3033 for more information. Details on the second long table event ….will be released soon….
KING HOUSE CHRISTMAS CRAFT FAIR 2019
This year's Christmas Craft Fair will be held on the 6th and 7th of December – Friday night 6th December 5pm to 9pm and all day Saturday 7th December 10am to 6pm. We would like to invite crafters that can supply handcrafted items such as, Christmas themed goods, e.g. tableware/placemats/hanging ornaments/decorative bottles/knitted jumpers/scarves/hats/ personalised plaques/celtic crosses/county name plaques/handcrafted jewellery, Christmas candles/floral Christmas arrangements/hand creams/lipbalms etc. On the opening night, King House will have a free glass of mulled wine for our visitors to the craft fair. Crafters can apply for an application/booking form to: [email protected] or Phone 071/9664232 or call to the reception during opening hours. The closing date for completed application forms is Friday 18th October 2019. 
FAMILY SUPPORT DROP IN CLINIC 
A drop in confidential space for parents and families to call in and receive support and a listening ear about issues and concerns about you and/or your children. Wednesday mornings during primary school term 9.30am-12pm.  An interagency project together with Boyle FRC, Foroige & Tusla. Boyle Family Resource Centre 0719663000.  
SPANISH CLASS WITH LAURA 
Thursday's at 11am in Boyle Family Resource Centre 0719663000.  Cost is €40 for 6 weeks. Booking essential. To register your interest for a lunch time class from 12.30pm-1.30pm please contact the Centre. 
MUSIC & ITALIAN WITH MARIE HANMORE CAWLEY
Share learning with people of all ages and abilities.  Learn new skills from the mix of Music and Italian. So, come along and learn with us every Wednesday's morning from 10.30am-12.30pm in Boyle Family Resource Centre.  Cost: €3/donation.
BEGINNERS PILATES WITH OLIVER NEVIN
Tuesday's at 10.30am in Boyle Family Resource Centre.  To book a place please contact Boyle Family Resource Centre on 0719663000.  Cost: €10 per session or €50 for 6 sessions.
YOGA WITH LIZ DWYER
Wednesday mornings from 11am-12pm in Boyle Family Resource Centre. Cost: €10 per session or €50 for 6 sessions.
ROSCOMMON SUICIDE BEREAVEMENT LIAISON SERVICE
Roscommon Suicide Bereavement Liaison Service is a free & confidential service that provides assistance & support to families & individuals grieving the death of a loved one by suicide.  Contact: Tiffany Jennings Walsh, Suicide Bereavement Liaison Officer on 0857407856 or Boyle Family Resource Centre (FRC) on 0719663000. This service is funded by the HSE National Office for Suicide Prevention.    
BABY AND TODDLER GROUP
Baby & toddler groups can be a great way of meeting other people with children the same age as yours in our community.  It is open to childminders, grandparents and other guardians, babies, waddlers and toddlers are welcome. Every Tuesday and Thursday morning from 10am–12.30pm in Boyle Family Resource Centre (FRC) 0719663000.  Cost: Donation. Bazz Art, Thursday 10th October 10am-11am sharp. Cost included in Baby & Toddler Group.
CV & OFFICE SERVICES
Are you looking for a new job? Are you having difficulty putting together your CV? Would you like some help? Then why not call into the Úna Bhán office in the grounds of King House, Boyle, where we will be delighted to give you any help, advice or information we can. A good CV could make all the difference in getting your job application through to the interview stage. We have a template and sheet of helpful tips to guide you through the process. We will also type your CV if you cannot do this yourself. Or you may just want to call in for a chat about your CV. All information will be treated in the strictest of confidence. For more details, contact Úna Bhán Tourism on 071 966 3033. We also offer office services such as Photocopying, Scanning, Laminating, Typing, Faxing, Binding and Printing.