GAA
Boyle GAA club weekly update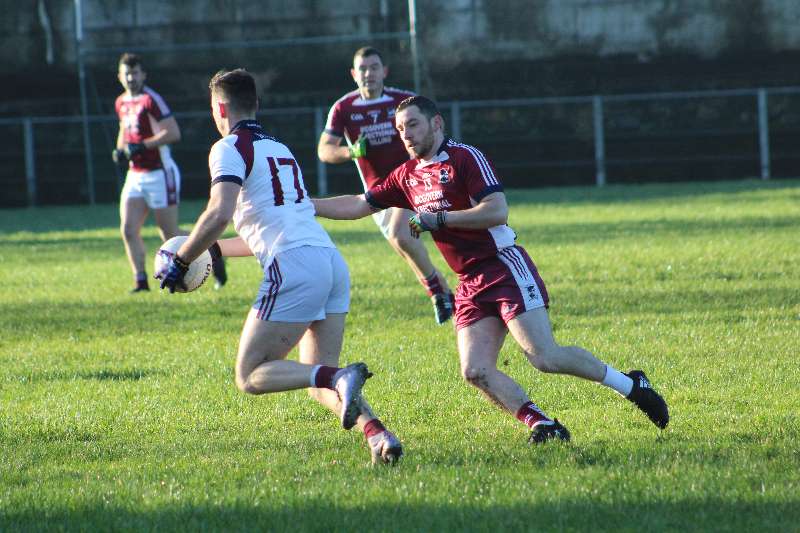 The club Junior team travelled to Kilglass in Saturday evening for a double league an championship decider. Boyle had an astonishing panel of 29, whereas Kilglass could only field the mee 13. Boyles C Horan and Mark O' Connor had to be left on the bench as a result. Boyle started the game the brighter and it was not long before the newbie Dublin native Sean Conlon bagged the first of his two goals. Boyle were lining up to take shots with Niall O' Donoughue on song. However with space at the back due to a two man full forward line, Boyle defenders were kept on their toes with Declan Mc Govern saving two goal chances and Conor Boylan doing the same at full back. Boyle took a ten point lead at half time. In the second half Boyle brought on their maximum of 6 subs and ended up comfortable winners 4.17 to 10. Boyle team was D Mc Govern, C McGee, C Boylan, J Moran, Cian Beirne, J Regan, P Lavin, T Halligan, D Kelly, R Hannon, Marc O' Connor, N O' Donougue and S Conlon. They now face Ballinameen away this coming Sunday at 2pm in a league game.
Ladies notes.
The U16s finished top of the table in the Division 1 Championship after 5 rounds of matches. Details of Championship semi final tbc.
U14s had a great start to the league with a very strong performance against Clann na nGael. Their next match is away to St. Brigids on Wednesday.
The U12s are away to Four Roads on Sunday 13th May.
The ladies lost their league  semi final to St. Barrys.
Minor news
The boys minors had a comfortable win over Western Gaels on Sunday on a score line of 3.12 to 1.9. Where as the U14 lads fought hard to over come a 10 point margin to draw with fellow table toppers Roscommon Gaels on the scoreline of 5.9 to 4.12.
Minor Division 3 Semi Final Boyle v Western Gaels Match Report Sunday 6th
With a spot in the Minor division 3 final up for grabs, Boyle hosted local rivals Western Gaels. Boyle were hoping for a repeat performance against Western Gaels having beaten already by 8-point margin in an earlier fixture. Boyle showed early intent by registering early scores on the score line. Boyle continued playing well and kept Western Gaels to little scoring chances. Boyle went into the break 1:8 to 0:3. Boyle came out in the 2nd half looking to continue the performance as the 1st. But Western Gaels had other ideas came out all guns blazing and applied severe pressure and narrowed the gap to 3 points leading into midway of the 2nd half.  Boyle settled themselves with and took strangle hold on the game and say tie through after scoring 2 goals. Boyle won 3-14 to 1-12and secured and the place in the Minor Division 3 final.
U14 Division 1 League Boyle v Roscommon Gales Thursday 3rd 
Well it truly did turn out to be an epic battle in Abbey last Thursday evening. With Boyle and Roscommon Gaels in the hunt for the U14 Division 1 title as they lined up against each other tonight. Boyle scored a very early goal and took control of the game. The Gaels got into their stride and started registering scores on the scoreboard and took the lead and stretched it further to go in at half with 5 point lead 1:8 to 1:3. Roscommon Gaels continued the 2nd half as they did, the latter stages of 1st half. They continued to widen the lead and put up what look like an insurmountable lead of 10 points. But Boyle never stopped working on the pitch as they never let their heads drop and started to get grip of game again as they scored 3 unanswered goals and clawed their way back into the competition. Both teams traded scores to the end of the game. The game ended up unable to separate the sides. Both teams put on an absolute brilliant evening of excitement with superb football being played by both, with a drawn game on the scoreboard 5:9 to 4:12
U14 Division 1 Boyle  5:9 Roscommon Gaels 4:12, Minor Division Boyle 3:14 Western Gales 1:12.
Fixtures:  Monday 7th U12 Division 1 Boyle v Clann na nGael Abbey Park 4:00 pm, Thursday 10th U14 Division 1 Clann na nGael v Boyle Johnstown 8:00 pm, Sunday 13th Division 5b Roscommon Gaels v Boyle  11:00 am  Lisnamult, Division 1 Boyle v Roscommon Gaels Lisnamult 1:00 pm
Off the pitch.
The club Monster draw has been put back to he 20th of May to coincide with the La na gClub on the same day.