News
Tidy Towns report for Boyle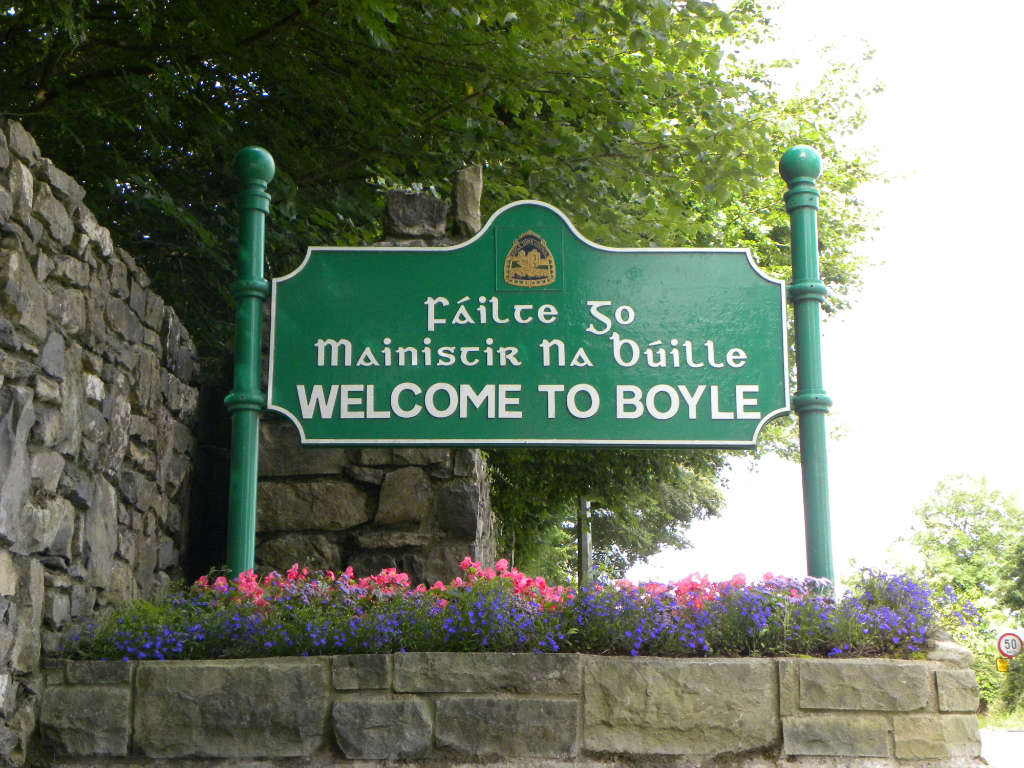 Boyle increased it's mark in the Tidy Towns competition, details of which were announced today.
The overall mark awarded to the town was 270 up 10 marks from the 260 achieved in 2013.
Buildings which received praise included Abbey House, Boles, John Ryans (sic) Cryan's, King House, Scoil na nAingeal Naofa, Wynnes and Bridgestown Craft Shop.
Here is what the judges had to say:
 Community involvement and planning
Boyle is welcomed to the Tidy Towns competition for 2014. Thank you for your entry, map and work plan. Your
core committee of nine have built up wide community support that includes youth, many agencies and businesses.
This support whether it be sponsorship or in other forms of assistance is greatly welcomed. You are also fortunate
to have such dedicated workers working with the committee with on-going maintenance in the town. The Tidy
Towns competition has benefited the community giving them a focus and helping them to set a target and achieve
their goals which has greatly enhanced the town of Boyle. Long may this relationship continue.
Built environment and streetscape
There were many buildings that impressed the adjudicator in Boyle. Abbey House is a very impressive building with
modern glass structure at side. Abbey House B&B adjacent with its decorative fascia board also impressed. The
G.A.A. Park was also noted and admired. The superb bridge over the river Boyle at this entrance looked good.
Abbey Town House 1802 and Abbey Lodge also were superb. The Convent and grounds together with St. Josephs
Resource centre and St Josephs Boys School were admired. The Clock Tower which is an excellent timekeeper
and the Court House holds a prominent position in the town surrounded by lanterns looked well. One of the lanterns
is in need of repair and the grass growing on the roof of the Courthouse takes from this location. More planters
would also bring colour to this central area of the town. John Ryan on the corner boasts a lovely array of hanging
baskets. Boles of Boyle also looked superb. King House is another impressive landmark which facilitates many
activities was admired. Bridgestown Craft shop here is certainly worth a visit. Carrick road Girls School and Church
added their own charm to this area. Across from St. Josephs Hall many varying styles of houses formed a superb
streetscape. Wynne's bar on Main Street was also admired. The Royal Hotel now closed which held such a
prominent position in the town so far does not take from the streetscape. Other unoccupied buildings were
freshened nicely by adding window displays.
Landscaping and open spaces
The mature trees are an important part of the town's landscape. The pleasure gardens has some lovely
landscaping with well maintained trees and shrubs together with seats to sit and relax which make this a pleasure
garden by name and nature. There were many areas of landscaping around the town and this together with the
many hanging baskets brought superb colour to the streetscape. On the Sligo Road the long stone wall with Fuscia
hedging caught the adjudicator's eye.
Wildlife, habitats and natural amenities
Boyle has many areas of natural habitats for wildlife most notably the river. Well done on your linkage with National
Parks and Wildlife. There are three key issues to be looked at in this category. Education – Knowledge of local
species and habitats. The local Schools should be involved in any study or survey that groups are encouraged to
carry out. Conservation – Maintenance of important wildlife areas and implementation of survey results.
Celebration – Celebrating the knowledge gained and ensuring that the community will have access to this by
displaying it on information boards. Communities should be encouraged to host events that celebrate and raise
 awareness on local species and habitats. This could be a tree planting day or wildflower walk or talk from an expert.
Assistance with this can be obtained from the local authority. This could be an annual event held during heritage
week or tree week.
Sustainable waste and resource management
Well done on your progress in this category. The Schools are certainly progressing with green flag status.
Recycling and reusing is also being addressed. Resource management in the areas of water energy and transport
is also encouraged. The local G.A.A. are minimising energy wasting. The Greenway project will address wider
resource efficiency in transport. Hopefully more people will continue to cycle. The Community shuttle bus will
reduce the number of cars. Rainwater harvesting can be used by the wider community and with water charges
being introduced savings in water and funds would be welcomed. Do look at areas of waste prevention reducing
the amount of waste produced in the first place particularly in the area of food. The local authorities prevention
network website have added a specific Tidy Towns page to this website providing practical tips and advice on
sustainable waste and resource management. The website address is http://localprevention.ie/tidy-towns/ . This
hopefully will be of benefit to groups.
Tidiness and litter control
Well done on your plan on controlling litter which appears to be working well. Regular litter picks involving the wider
community creates awareness on litter control. It is positive to note the youth are helping with clean ups.
Participation in County Litter League initiatives also encourages groups. Anti dog fouling awareness is more difficult
to monitor. You are dependant on dog owners to be responsible and aware that they are not the only ones walking
on the walking route. Some areas of tidiness need to be looked at such as signage throughout which needs
cleaning. Small amounts of graffiti were noticed on the Post box across from Wynnes. The railings at the train
station continue to look bad and need attention to improve this area.
 Residential streets and housing areas
Overall the presentation of houses throughout the town was good. There was a good mix of old style town houses
and the more modern styles of today. They all blended well together to create a superb streetscape. The houses
across from St. Josephs Hall caught the adjudicator's eye. Some boundary walls were in need of attention.
Plunkett avenue resident association are to be commended on receiving a County Award for maintenance of their
area. Presenting awards for best estate encourages residents to maintain their area. All signage at estate
entrances should be bilingual if possible. Gardens were neat and colourful with hanging baskets and window boxes
adding a splash of colour.
Approach roads,streets and lanes
The approach roads had some superb entrance signs and landscaping. The Ballymote road sign however needs to
be trimmed around as the flowers cannot be seen. Nice mature trees and well trimmed grass were admired. Stone
walls were also admired. The bridges across the river Boyle are important structures but could be somehow
enhanced with perhaps containers of flowers or lanterns that would make them more prominent in the streetscape
of the town.