News
Boyle man takes over as chairperson of Hospice Foundation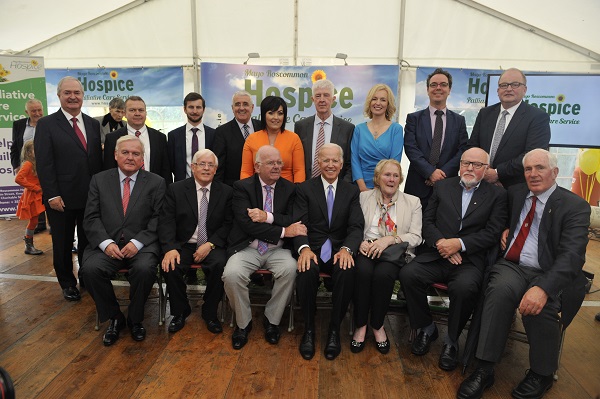 Boyle native and well known Estate Agent Mike (Junior) Smith has recently taken over as Chairperson of Mayo Roscommon Hospice Foundation. 
Mr Smith, who has been a member of the board of directors for a number of years, takes over from Joanne Hynes as Chairperson.
Ms Hynes said: "My term as chairperson was extremely busy and I was especially honoured to have been there at a time when the sod was turned on the Mayo Hospice, by now President Elect of the USA Joe Biden, in 2017 and when the building was officially launched in 2019. We also turned the sod on the Roscommon Hospice in January 2020 and that is progressing very quickly."
Ms Hynes continued: "To be chairperson of a charity that resonates with people the way Mayo Roscommon Hospice Foundation does, is a very special honour. I know that Mike Smith will be a very capable and passionate Chairperson. I am also lucky that my involvement in the board does not end with my tenure as chairperson and I will still be very much involved in the Board of Directors going forward."
Mr Smith said he is delighted to be taking over at such an exciting time for Mayo Roscommon Hospice Foundation as the build of the new Roscommon Hospice progresses at pace.
He said: "The opening of the Roscommon Hospice is another major milestone for the Foundation and we will reach that point in July 2021. I am very aware that the fundraising does not end with the construction of the two buildings, rather we will need our volunteers and fundraisers more than ever to help us raise funds to continue our community palliative care services and fund services within the Mayo and Roscommon Hospices. We are now in the planning stages of a 5-year strategic plan for Mayo Roscommon Hospice, which will provide a blueprint for us going forward."
Mr Smith said: "We are very fortunate to have very supportive major donors but equally important are our support groups and our volunteers, who have been there during good and bad times and are a constant support in every town and village in the two counties."
He continued: "Our shops are also a hugely important element of what we do and without them we would be lost. I know large numbers of young people are shopping in our stores now as well, given the push behind sustainable fashion and reuse and that is positive for the future."<
Mr Smith concluded by saying: "I have big shoes to fill with Joanne Hynes stepping down and I want to thank her for her service as Chairperson, during which she helped achieve amazing things. I also want to sincerely thank all the local media for their unwavering support of the Foundation over the past number of years and I know we can count on that into the future."
Martina Jennings CEO of Mayo Roscommon Hospice Foundation said: "We are delighted that Mike Smith is our new Chairman. Mike is taking over at a very exciting time for the Foundation, as we move towards the completion of the Roscommon Hospice next July. Mike has the ethos of the Foundation at his core and I've no doubt that that will shine through in his term. I look forward to working closely with Mike over the next three years, and would like to thank his wife Mary and his family for supporting him in his role as chair"
Ms Jennings continued: "I want to thank Joanne Hynes for all her hard work as Chairperson. Joanne was a huge part of what has been achieved over the past number of years and I know she will still be a very active member of our Board. We are so grateful to Joannes' husband Brian and their family for their support of her role, in what was an extremely busy period for the Foundation.  I am also extremely grateful for the support I receive from the whole Board of Mayo Roscommon Hospice Foundation, which consists of 14 directors, who give their time voluntarily, and take their roles very seriously. Within the board there is an Audit & Governance committee, and a Build oversight committee. Every decision is made with openness, transparency and accountability, while always taking into account the needs of the patient and their families.
(Main photograph shows Mike, back right, with fellow board members when President Elect of the United States Joe Biden turned the sod on the Hospice in 2017)