News
Boyle native retires as Orbis Ambassador and Volunteer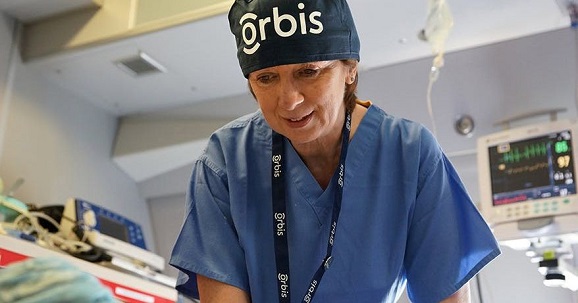 A Boyle native has recently retired as an Ambassador and Volunteer with Orbis – an international charity working to make eye care available everywhere, for everyone, so no one has to experience the consequences of avoidable blindness.
Ann-Marie Ablett (nee McHugh) is a native of Carrick Road, Boyle and daughter of the late Una and Micky McHugh. Along with her brother Denis and sisters Mary and Martina, the family were well known and highly regarded in Boyle before they left in the 1990's.
Ann went to the Convent School in Boyle before going on to train in Nursing in St Paul's Hospital in Liverpool and in Alder Hey. She later moved to Wales and started working in University Hospital in Cardiff.
Ann Marie is a Theatre Practitioner Nurse and has been an Orbis Ambassador for 12 years. She has volunteered with Orbis for 18 years, using her annual leave to train nurses around the world. Ann-Marie has been on over 30 assignments to 15 low-to-middle income countries and has treated more than 1,000 patients. In 2014 she was awarded the Royal College of Nursing in Wales Humanitarian Award and has spoken about her experiences in front of Her Royal Highness The Duchess of Edinburgh:
"Working as a nurse is an incredibly rewarding vocation. In my many years working with Orbis around the world, I have been lucky enough to help hundreds of men, women and children to see again. That moment, right after a life-changing operation is truly unforgettable. To know that you have been part of a team changing someone's life with a simple and cost-effective surgery, and that the nurse performing it was trained by you, is really humbling. I am so proud to be part of the Orbis family."
Ciara Baumgartner, Fundraising Officer with Orbis said: "Everyone I speak to regarding Ann-Marie always says how much of a joy she is to work with and a lovely person in general, so the whole Orbis team will most definitely miss her".
We wish Ann Marie a healthy and happy retirement.