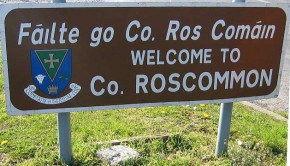 Fianna Fáil spokesperson on Brexit Lisa Chambers TD will be the special guest at a public meeting on the Impact of Brexit which takes place in Ballinlough tonight Monday, July 2nd.
The meeting which is organised by FF TD for Roscommon/Galway Eugene Murphy takes place at 8p.m. in Campbell's of Ballinlough and all are welcome.
"Brexit is one of the biggest challenges that this State has ever faced and numerous reports have indicated that a 'hard' Brexit will have profound negative implications for Ireland. The UK is traditionally our largest trading partner and our countries trade approximately €1.2 billion in goods and services on a weekly basis. Whilst all countries stand to be affected by Brexit, Ireland stands to be disproportionally affected, more so than any other EU member State. Brexit poses major risks to farmers, exporters and agri-food jobs as 37% of all Irish food exports are exported to the UK with half of our beef exports and one quarter of our dairy exports going to the UK. With almost 80% of its employment outside Dublin, the sector supports 270,000 jobs in rural communities and this is particularly true in the Roscommon/Galway area," said Deputy Murphy.
"I am delighted that my fellow Fianna Fáil colleague and our party spokesperson on Brexit Lisa Chambers will be out special guest at a public meeting in Campbell's of Ballinlough, Co Roscommon next Monday, July 2nd . Everyone is welcome to what I am sure will be a very informative event. This public meeting is one a series of events I have planned throughout the constituency in the coming months in a bid to gain feedback from the public on issues which matter to them most as I continue to represent the views of the people in the most effective way possible in the Dáil," concluded Deputy Murphy