News
Chris is Freeman of Roscommon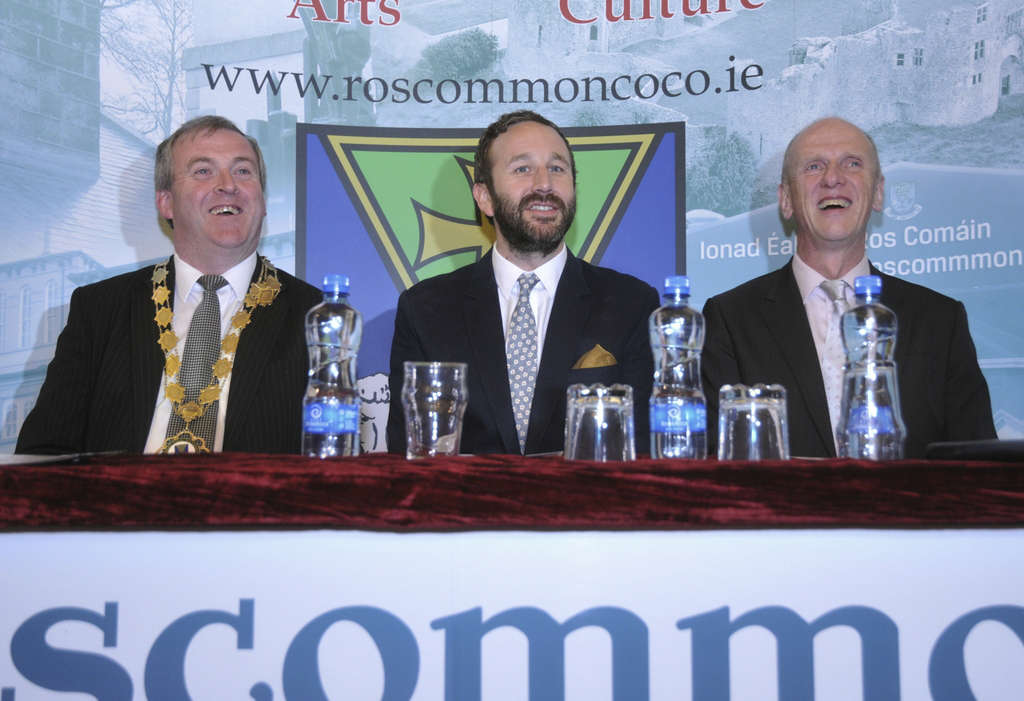 Boyle's famous son Chris O'Dowd was tonight bestowed the honour of the Freedom of the County at a ceremony in King House.
Chris and his wife Dawn are in Boyle this week for a holiday and to join in the Moone Boy celebrations.
Boyletoday.com photographs show Chris and family with Roscommon Co Co officials at tonight's event.
Local journalist Marese Mc Donagh reporting in the Irish Times said:
Chris O'Dowd sounded amazed. Freeman of Roscommon? "I was not aware Roscommon had enslaved me", he told the sea of familiar faces gathered in King House , Boyle tonight to see the honour bestowed.
The star of Broadway and Hollywood, who was once more familiar locally as a goalie on the Roscommon minor football team, has a clear case of Stockholm syndrome, he insisted , captivated by his captor. "I am a sick man and Roscommon is to blame".
On the night his gracious acceptance speech was like a love letter to his home town – with a little bit of slagging thrown in.
Researching his speech, he had discovered that Roscommon has the longest life expectancy in all of Ireland, he revealed to murmurs of amazement. "I know Everybody is surprised. I like to think it is because Roscommon people have more to live for but it is probably because without an A&E Department we are too afraid to die".
To chortles of delight and cringes from some of those politicians present he added:"It's a joke. What we lack in clean water we make up for in dirty jokes . I know councillors…….I know ….it is nobody's fault.".
O'Dowd was accompanied tonight by Dawn O' Porter who is expecting their first baby early next year. Joking that he did not know whether it was a contender for the local football or camogie teams he added that based on recent events "even in its present form as a foetus it probably has a good chance of making either squad".
The creator of comedy Moone Boy, which has put Boyle on the map, became emotional as he listed the things he would tell his child about his home town and county.
"I will tell her how lucky her Dad was, how in an ever-changing Ireland, Roscommon has stayed true to itself. I love it."
" It is not a rich man's weekend getaway, it is a breeding ground for artists and entertainers like John Reilly, Maureen O'Sullivan and and John Carty ."
He joked that following as he was in the footsteps of former president Mary McAleese, the last "free person of Roscommon" he felt a little like President Michael D Higgins "but not with the same IQ or the same inside leg measurement".
(All pics copyright Boyletoday.com and can not be used without permission)