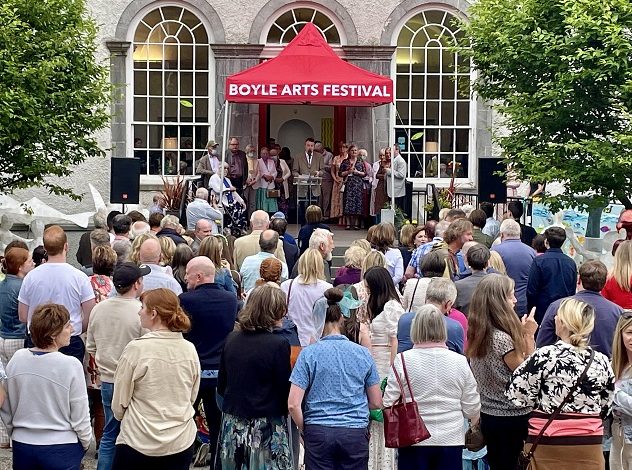 A strong programme of Classical, Folk and Traditional music is one of the cornerstones on which Boyle Arts Festival was founded over 30 years ago and BAF 2023 will showcase some unique performances, featuring many of the finest musicians in the country.
An Evening with Celine Byrne is a chance to hear the renowned soprano sing popular arias from the world of opera and musicals and also perform some beautiful Irish melodies, film music and songs from musicals. Celine will be joined by pianist David Monro and violinist Nicole Hudson for a programme including Rusalka's glorious 'Song to the Moon', 'Climb Every Mountain', 'The Last Rose of Summer', 'Danny Boy' and many more popular classics in the Church of Ireland on July 21st.
(By Brendan McGee)
In the same venue on July 23rd and with an exciting blend of eclectic fiddle and guitar music, Zoë Conway and John Mc Intyre bring to the stage sympathetic arrangements of traditional Irish music, compositions and songs, old and new. The husband and wife folk duo possess a rare facility to draw pieces into their repertoire from other genres such as classical, jazz and world music and express this material in way which displays the sheer range and knowledge of both instrumentalists.
Local singer-songwriter Donal O'Connor will be joined by the guitarist of Choice nominated band Come On Live Long and Dirty Dreamer, Dotts O'Connor for a very special concert in King House on July 25th. Donal has been writing songs for over 30 years and has three entirely self-composed albums to his name, while Dotts' debut solo EP 'Coney', received national airplay when it was released earlier this year.
Ardú is an award-winning ensemble and a pioneer of contemporary vocal music in Ireland. This a-capella vocal group regularly performs at high profile festivals in Ireland such as the City of Derry International Choir Festival, MusicTown Festival, K Fest and the Cork International Choral Festival, where they performed alongside Swedish trio Solala. Ardú will perform in the Church of Ireland on July 27th.
12 year old pianist Lenny Chen from Boyle is a talented young man with a bright future as a concert pianist. Lenny is a student of Shirin Goudarzi-Tobin, TU Dublin Conservatoire and he staged his first solo concert at Boyle Art Festival 2022. This year he will perform in the Church of Ireland on July 22nd. Lenny will be just back in Boyle, having participated in the MusicFest Perugia, Italy in early July, on the recommendation of Steinway artist Professor Ian Jones, Royal College of Music, London.
The King House Piano Commission marks the third in a series of music commissions by Roscommon County Council, in celebration of the grand piano at King House. Three composers were commissioned to write a 6-minute piano solo, each of which responds to a literary text with a local theme. Bianca Gannon's 'Loch Cé', Peter Leavy's 'The Last Flame' and Fiona Linnane's 'Mrs. Cousins –Event & Prelude' will be performed by Roscommon pianist Peter Regan in King House on July 28th.
The always popular King House lunchtime concert programme will include performances by soprano Deirdre Higgins, harpist Aodhamair Reilly, pianist Anna Hryniewicz and junior pianists Liam Ryan, Anita Han (13) Tiantian Gao (9)and Ryan Keogh (12).
Iona Sound explore and interpret traditional material connecting Ireland, Scotland and Scandinavia. Do not miss their lunchtime performance on July 29th. Max Greenwood: Piano; Bríd Cannon: Violin; Rory Pierce: Cello & Low D Whistle. Playing traditional melodies – such as Long Dances, Reels, Waltzes and Airs – Iona Sound let their melodic and harmonic interpretations breathe, and encourage the listener
Dodd's Crescent bar will see a welcome return of BAF veterans The Men Who Knew Too Much on July 23rd and the same venue will be host to the always popular Singer's Night which takes place on July 26th. This year, the Boyle Singers will be joined by special guest Lorraine Murphy from Co. Fermanagh. Lorraine is well known in Traditional Singing Circles throughout the country.
Tickets for all events can be purchased online at www.boylearts.com
The Festival Office which will be located in the newly restored building 'The Royal' on Bridge Street will be open in mid-July but we strongly advise people to book tickets now, to avoid disappointment.
For more information on Boyle Arts Festival 2023 please visit www.boylearts.com email [email protected] or call 089 9722477. Follow us on Facebook, Instagram and Twitter.
Boyle Arts Festival is supported by The Arts Council, Local Sponsors, Roscommon Co. Council and Fáilte Ireland. BAF is also supported by the Roscommon Co. Council Creative Ireland Programme 2023.