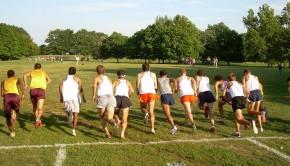 The Community Games Sports Day will be held on Saturday, 7th May at 3pm in the Abbey Community College Football Pitch. Registration from 2.30pm in Sports Complex.
Events:
Under 8 60m and 80m
Under 10 100m, 200m and 100m hurdles
Under 12 100m, 600m, Ball Throw, Long Puck for Boys only
Under 14 100m, 100m hurdles, 800m, Long Puck for Girls only
Under 16 1500m
Tiny Tots Race
Mothers Race
Fathers Race
Each competitor must be under the age category in which they compete on July 31st 2016 and all children must reside in Boyle Parish in order to compete.
Entry fee €2 per child.
Looking forward to a great turnout on the day and hopefully blue skies!! Fun for all.
All 1st and 2nd place winners qualify to represent Boyle at the County Finals in one (1) individual event in Ballyleague on Sunday 5th June.
Any queries to Noel Scally 087 2228466 or Catherine Carr 087 6614651