Events
Run, Walk n Roll on Sunday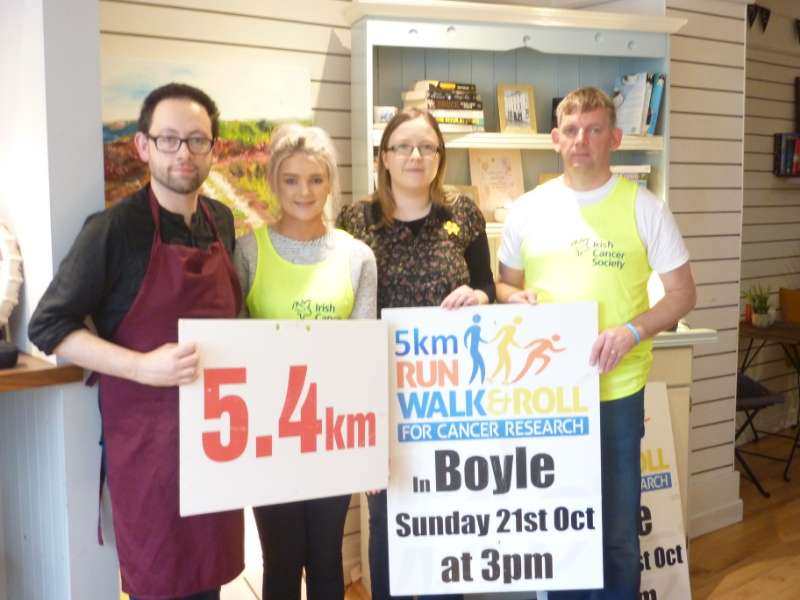 The 23rd annual Run Walk N Roll returns to St. Joseph's Hall, Boyle at 3pm on Sunday 21st October.
 The 5.4km event has raised over €165,000 for cancer research over the past 22 years and this year's theme is 'We Won't Give Up Until Cancer Does'.
 The Run Walk N Roll is open to runners and walkers of all abilities, with cancer survivors from all generations taking part in the event through the streets of Boyle.
 Local cancer survivor Pearl Anderson  has been taking part in the walk since it began as the Terry Fox Run back in the 1990s. But the event has taken on special significance for her after being diagnosed with breast cancer in 2001.
 The cancer, which affects over 3,100 women in Ireland each year, was detected following a mammogram, after which Pearl was sent for a biopsy, swiftly followed by surgery. She had to make the journey from Roscommon to Dublin by train for treatment, but says she is "very conscious" of how well she was looked after there.
 Following her successful treatment, Pearl continues to take part in Run Walk N Roll each year. Having spent time sitting in chemotherapy units and in waiting rooms awaiting test results, she feels it is wonderful to be able to get out and take part in the walk, "rather than sitting in that room not knowing what you're going to be told". "It's great to be able to do it," she says.
 And the Run Walk N Roll supports cancer research, something Pearl is passionate about. She recalls the words of her oncologist 17 years ago, "It will help you, but it will also help others."
Community of support
 Another local cancer survivor, Michael Reynolds from The Bazaar café on Bridge Street (pictured at the launch earlier this week), is taking part in the Run Walk N Roll for the first time this year, having been diagnosed with breast cancer in 2016.
 The Run Walk N Roll is a great example for anyone who might be going through difficult times, he says. "It's only 2 years since I was diagnosed and whenever I see an event like this… it reminds me that there is a community of support there that can help you out in difficult times."
 Over 40,000 people receive a cancer diagnosis in Ireland each year and the Run Walk N Roll is an important opportunity to raise cancer awareness. Michael has been speaking out about his experience with breast cancer, which affects a small number of Irish men each year.
 "It lifts your heart when someone stops you and says, 'I heard your story and I checked myself, or I told someone else to get themselves checked.' If one person can do that for someone else then everything is worth it, because you don't know when you'll make a difference," he says.
Trying to help others
Run Walk N Roll organiser Damian Regan says the event is one that young and old can take part in together because, unfortunately, both  generations can be affected by cancer.
 Damian's youngest brother was diagnosed with leukaemia when he was just 3 years old in the early  1980s. Damian spent time in hospitals in Dublin and Galway while his brother underwent treatment, and has never forgotten the other young children he met there. "I often wonder how they are now," he says. "That impacted on me." His wife also lost her brother to leukaemia at a young age so they both had experienced cancer at a young age in their lives.
 Damian's brother made a full recovery but it sparked an interest in cancer research for Damian and he organised Boyle's first Terry Fox Run in 1995. Terry Fox was a young Canadian forced to have his leg amputated following a cancer diagnosis. But the 22-year-old was determined to walk across Canada to raise funds for cancer research and ultimately walked over 5,000km before passing away in 1981. Since then, Terry Fox Run events have raised over €650million for cancer research across the world.
 Terry's legacy inspired Damian, "His determination in his own illness, in trying to help others", and he stresses the importance of research for cancer patients. While more people are being diagnosed with cancer, thanks to research breakthroughs cancer survival rates have doubled over the past 40 years.
 With support from his wife, daughters and the  local community, Damian's Run Walk N Roll is approaching its 25th anniversary in 2020. This year's event on the 21st of October is in aid of the Irish Cancer Society and all funds raised go to cancer research. Entry is on the day and refreshments will be served afterwards. For more information and sponsorship cards, contact Damian Regan on 086-3942388 or see Run Walk N Roll on Facebook.
Best wishes to Michael and Aideen in the Bazaar coffee shop who are holding a coffee day in aid of Breast Cancer "Cups against Cancer" in their cafe which will take place on Friday the 26th of October. Please come along and support them.