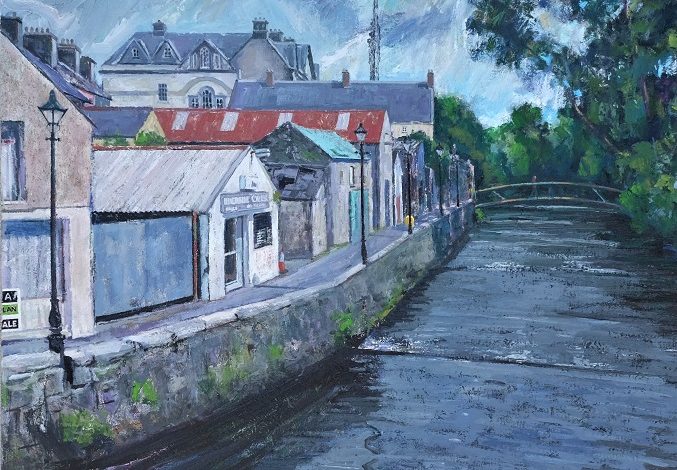 Art is a powerful form of expression that can not only bring people together in a language that is beyond words but also can affect our fundamental sense of self. It is always a sign of a functioning society.
(By Brendan McGee)
The Main Exhibition is always one of the highlights of Boyle Arts Festival and this year is no exception.
Entitled 'Crossings', the magnificent setting of King House will yet again showcase more than 130 leading artists, both established and emerging; from across the Island of Ireland. Curated by Paul McKenna, it will continue the strong North-South flavour that has characterised the exhibition annually, over the past 32 years. Work by established artists like John Behan, John Shinnors, Elizabeth Cope, Colin Davidson and Donald Teskey will share space with art from emerging artists such as Linda McCann, Mantas Ponderys, Stephen Doyle and Sian Costello.
The exhibition features works in all media, with sculpture being particularly well represented.
2021 will also see the presentation of the 2nd Annual Fergus Ahern Award. Fergus worked tirelessly to place the Boyle Arts Festival on a national platform, earning it a place as one of Ireland's most anticipated and prestigious summer celebrations of the arts.
All works are for sale, with prices ranging from €200 to €23,000. The exhibition runs from 5th – 31st August and admission is free during King House opening hours. Numbers will be limited at any one time and Covid safety measures are in place. If you are unable to attend, the exhibition will be available to view virtually in 3D, via our website www.boylearts.com
Due to ongoing Covid regulations and guidelines, it was with great regret that the Committee decided not to hold the annual Open Art Exhibition. This year we invited artists to exhibit their work in businesses and vacant premises and we have assembled an Art Trail, details of which can be found in our programme and on www.boylearts.com
Keep an eye out for 'pop-up galleries' and small exhibitions in various premises and shop windows around town during the course of the Festival. Several local artists including Tony Murphy, Eddie Lee, Susan Mannion, Malachy Costello, Róisín McNamara and Declan Wynne will be exhibiting their work throughout the town, along with Boyle Camera Club who will hold an online exhibition.
Please note that entrance to all exhibitions is free.
Tickets for all other events will soon be available to purchase online, exclusively at www.boylearts.com 
Please note that there will be no ticket office this year and there will be no tickets available at events.
In recognition of the difficult 18 months experienced by a great number of our loyal sponsors, we will not be seeking sponsorship this year. However, we will gladly accept any donation that is offered to us, as costs will significantly outweigh income this year, due to ongoing restrictions.
For more information on Boyle Arts Festival 2021 please visit www.boylearts.com  email [email protected]  Follow us on Facebook, Instagram and Twitter.
Boyle Arts Festival is supported by The Arts Council.
(Main image: 'Along by the River' – oil on canvas, by Malachy Costello)