News
Devin Finneran's Mongol Rally update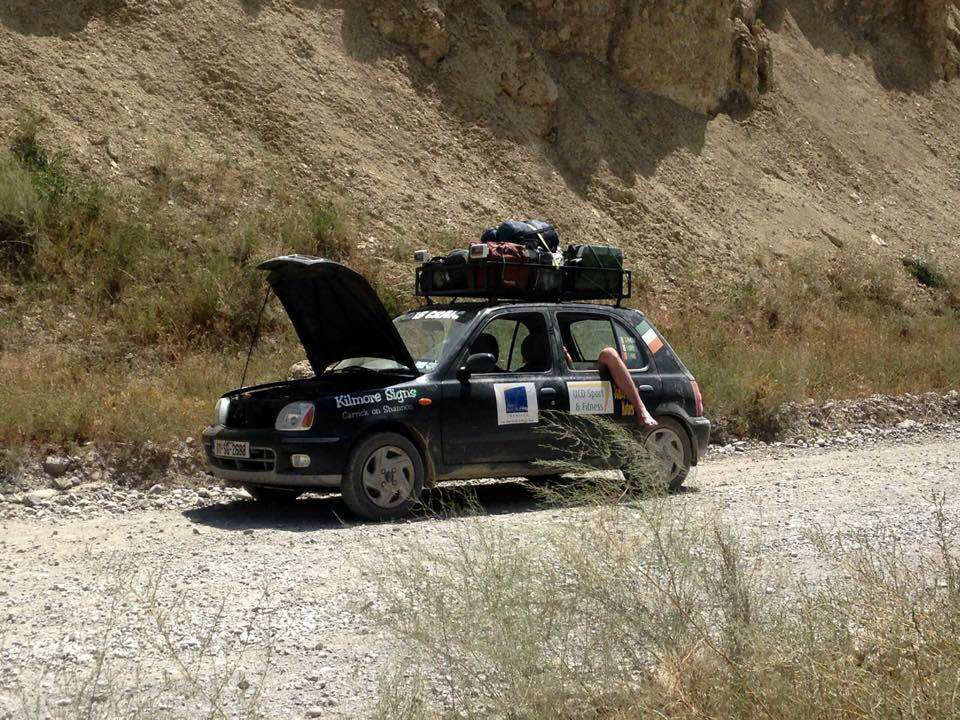 Boyle woman Devin Finneran is currently taking part in the Mongol Rally travelling from Dublin to Mongolia in a 14 year old Nissan Micra.
Here is her latest update:
Gas Craic crossed the Uzbekistan – Kyrgyzstan border on Friday, 7th August. They received permission from a young boy on horseback to camp on his land which happened to be on a mountain just north of Osh, the border city. He also insisted that the guys go for a trot around themselves as the sun set. After an early night the team naively planned to take the scenic route to Lake Issyk Kul, the second largest saline lake in the world after the Caspian.
However, this scenic route took them directly over the Tian Shan mountain range which runs right through Central Asia. This was the most challenging day the team had yet, while the views were absolutely incredible it was all uphill on rocky roads filled with horses and cattle. The guys took 5pit-stops to prevent the car from overheating and spent a shocking eleven hours travelling just 150miles averaging at a bleak 14mph.
Reaching Lake Issyk Kul
on Saturday
 was no longer possible by the time they got out of the mountains and the team stayed in a house share in a small city called Naryn. The lake and it's surrounding scenery was beautiful and now the team are currently in Bishkek, the capital of Kyrgyzstan awaiting information on extending their Russian visas to allow them to enter
on Wednesday
before they attempt to cross into Kazakhstan.
To keep an eye on Team Gas Craic and their adventure check out Gas Craic Mongolia on Facebook and Devin's blog on
www.medium.com/@dervin94
.
Whilst on the adventure the team are raising funds and awareness for Headstrong – The National Centre for Youth Mental Health to donate please visit their MyCharity – 
www.mycharity.ie/events/gascraicmongolia"
Pictures show:
The team on the mountains in Uzbekistan before reaching the border.
Devin on Kyrgyz boys horse.
Feargal on the horse with the boy.
Eoghan during one of the pit-stops on the Tian Shan.
A sample of the mountain roads.
Eoghan enjoying Issyk Kul.