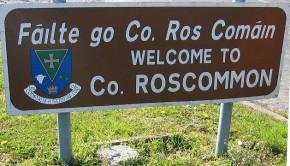 Fianna Fáil TD for Roscommon/Galway Eugene Murphy TD has welcomed the allocation of over 400,000 euro in funding under the CLÁR programme for County Roscommon but he has expressed disappointment that no funding for Local Access Roads in the county has been "totally abandoned."
Deputy Murphy said that over 400,000 euro in CLÁR funding will go some way towards injecting a well needed boost to local towns and villages throughout the country.
"This funding is focused on issues such as safety at schools and community centres and the development of amenities for young people in rural areas.  I am confident that the funding provided through CLÁR will support communities throughout County Roscommon and keep children safe at pedestrian crossings at various schools all over the county while they have recreational amenities available to them in their own communities. Some of the biggest allocations went to Ballinagare NS and Elphin NS who both got 30,000 euro for a pedestrian crossing and warning signs while Ballaghaderreen NS will receive 25,000 euro for similar works. Cortober NS will receive 22,000 euro to help reduce speed from N4 while Ballyfeeney NS in Strokestown has been allocated 16,000 euro for safety speed signs and work on road markings. Strokestown Boys NS will also get 25,000 euro for a pedestrian crossing. I also welcome the funding of 12,500 euro for Cloonfower NS in Tarmonbarry which will help improve visibility at a dangerous blind bend as well as 10,000 euro for Whitehall NS and Ballagh NS.  There was good news for Keadue Playground also with the allocation of over 39,000 for the relocation of existing equipment to a more suitable site while other schools throughout the region benefitted from allocations of 2,000 euro up to 16,000 euro," said Deputy Murphy.
"While such funding is obviously welcome I am extremely disappointed that County Roscommon received no funding towards Local Access Roads under this CLÁR funding despite the fact that other counties received monies for local roads and it seems to be a total abandonment of funding for the vital local roads infrastructure which were totally ignored in this recent announcement," said Deputy Murphy.