Around the County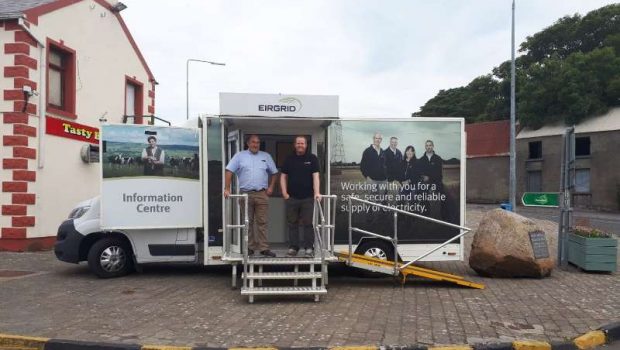 Published on February 13th, 2019 | by BoyleToday.com
Eirgrid unit in Ballaghaderren today
Eirgrid will have a mobile unit in Ballaghaderreen today Wednesday February 13th so you can have your say on the North Connacht 110kV project.
The unit will be located on The Square in ballaghaderreen between 10am and 4pm.
If you have any questions on the project or need further information, you can drop into the unit on Wednesday.
According to the company "A series of economic, socio-economic, environmental and technical network studies have concluded that the line should run between the electricity substations at Moy near Ballina in county Mayo, and Tonroe, near Ballaghadreen, in Co. Roscommon. The other option was a circuit between Moy and Srananagh in Co. Sligo".
"The next step in the development of the project is to choose the best technology and to determine the most suitable route between the two substations. This phase will also establish whether the line will be overhead, underground or a combination of both, and formal consultation activities will resume later in 2019".
"Interested members of the public are invited to visit EirGrid Regional Office, Chapel House, 3 Upper Chapel Street, in Castlebar. The office will be open from Monday, 7th January until Friday, 18th January and members of the EirGrid team will be available to answer any questions on the project or you can visit one of the mobile units".
(Image via Eirgrid Facebook page)